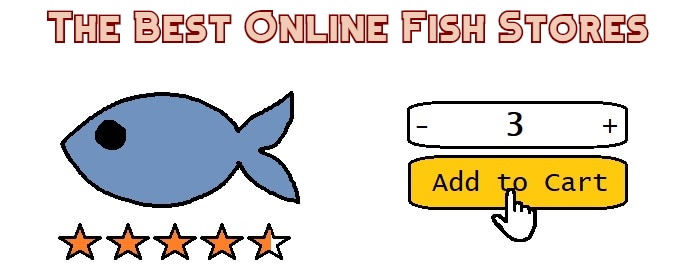 Buying live aquarium animals from the Internet is way easier and more convenient than most people think. However, you'll have to do a little research on the online fish stores that offer the finest shopping experience.
Needless to say, I went ahead and sifted out these places for you.
To complete this task, I used my personal experience with placing online orders for fish and gathered feedback from other clients of these stores. I also made sure to list retailers that offer anything from aquarium livestock to supplies.
So without further ado, let's take a look at the 12 best online places and fish stores.
The Best Online Fish Store: My Top 12 Recommendations
Before we start exploring my favorite online fish stores you need to know what criteria I used to compile my recommendations.
During my research for these places I picked:
Stores that I've personally bought from
Places that have an overwhelming amount of positive feedback in online forum communities (from actual buyers)
I did not take into account the reviews on the website of the retailers themselves, because these can be managed and the negative feedback may get sifted out
I did not rank them in any particular order because each place specializes in selling different goods. Read up on each entry and you'll likely find your cup of tea.
That being said, to buy aquarium fish or supplies, try these online stores:

Aqua Huna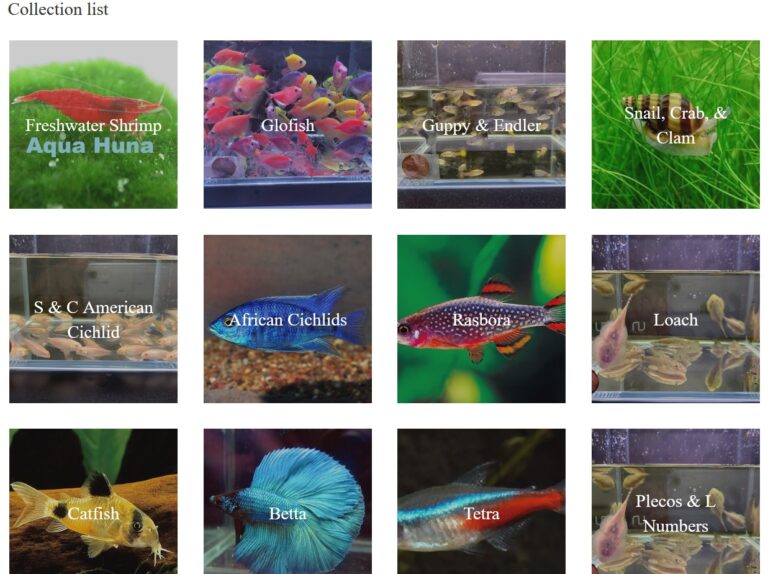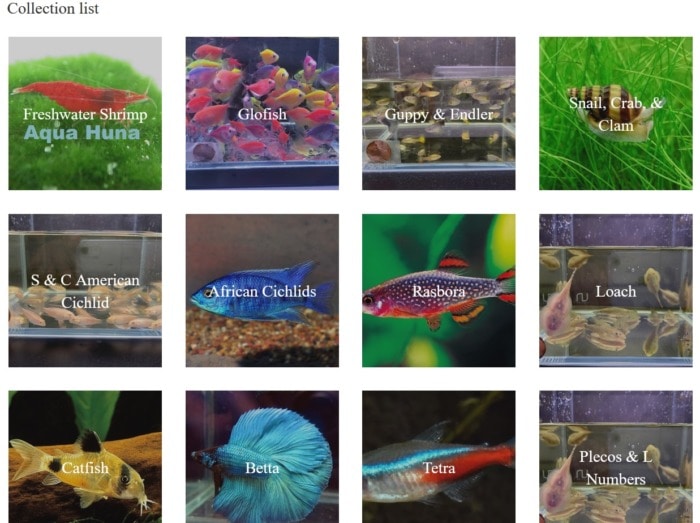 Aqua Huna is a US store that specializes in selling live freshwater fish and invertebrates online and I can say that they are among the best in the branch. They are based in Burien, WA state.
Aqua Huna's list of cool fish to buy from is varied enough to satisfy anyone who wants to keep a diversified freshwater aquarium.
They also have an excellent collection of rare Albino varieties.
The prices for the shipping and the fish themselves are also pretty competitive from what I can tell.
I think this comes from the fact that they also supply other distributors of aquarium livestock.
In most cases, the fish will come at lower prices than in your local fish store.


What I like about Aqua Huna is that they don't force overnight shipping like other fish retailers and actually use priority shipping which takes 2 to 3 days more where I live.
The best thing is that every live fish that I've ordered online from their aquarium store has been delivered healthy and strong, despite the longer shipping times.
The weather conditions were always taken into account with each of my orders and the fish bags came with cold or heat packs within the package.
The fish and shrimp I've got were in the best condition possible, ate well, and were beautiful and colorful.
Aqua Huna will also readily respond to emails and will gladly customize your online order if you have specific needs such as the minimum size of the fish, gender, etc. This is especially useful if you have a clear vision for your freshwater aquarium and want to avoid aggression or encourage breeding.
If you don't specify these things, however, my experience shows that Aqua Huna will sell young fish, and the specimens are small most of the time.
One caveat I'd like to mention when shopping from Aqua Huna:
Their online fish store only sells in "larger" quantities of 2 or more fish of the same species (with some rare exceptions).
I don't think this is an obstacle, as there are many fish or shrimp that you'd want more than one of.
Aqua Huna is a fantastic choice for beginners who want to stock their aquarium from scratch or aquarists who have a larger tank that they want to enrich with beautiful community fish.
Don't forget to check out their Misc & Exotic section when you're there.
What Aqua Huna Offers Online:
Fish: Yes – Freshwater
Invertebrates: Yes – Freshwater shrimp, snails, and some exotic invertebrates
Aquatic Flora: No
Supplies: No
Visit Aqua Huna
Aquatic Arts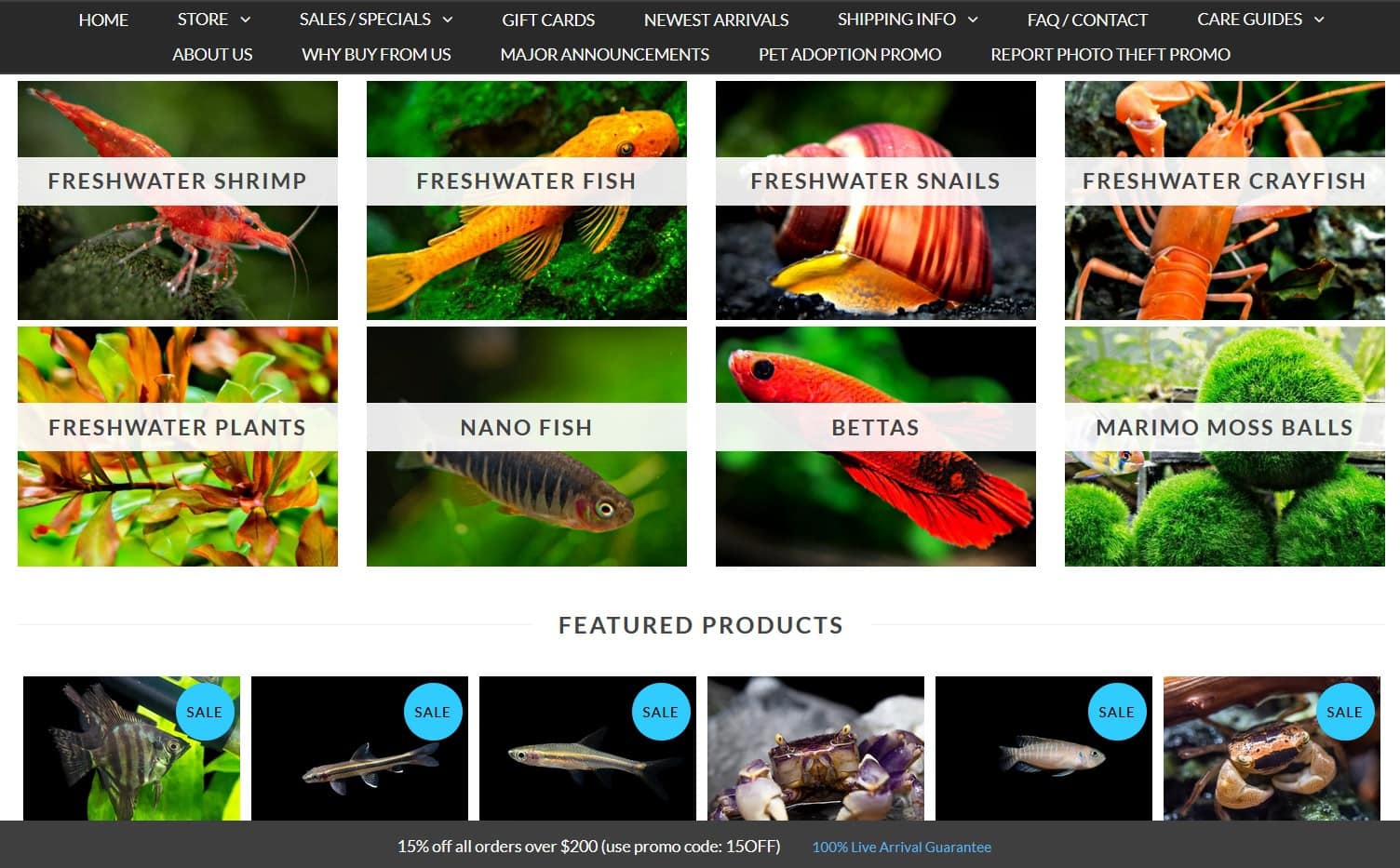 Aquatic Arts certainly is one of the best online stores for live freshwater fish and invertebrates in the USA.
They are based in Brownsburg, Indiana, and ship all of their packages from there.
The reason I like them is that they put a serious emphasis on the quality of their aquarium livestock.
For example, if you want to order a schooling freshwater species, they won't sell you a single specimen of that because they know that such fish need to be in groups to thrive.
They also have a very comprehensive selection dedicated to freshwater algae eaters, which obviously includes the famous Siamese Algae Eater among others.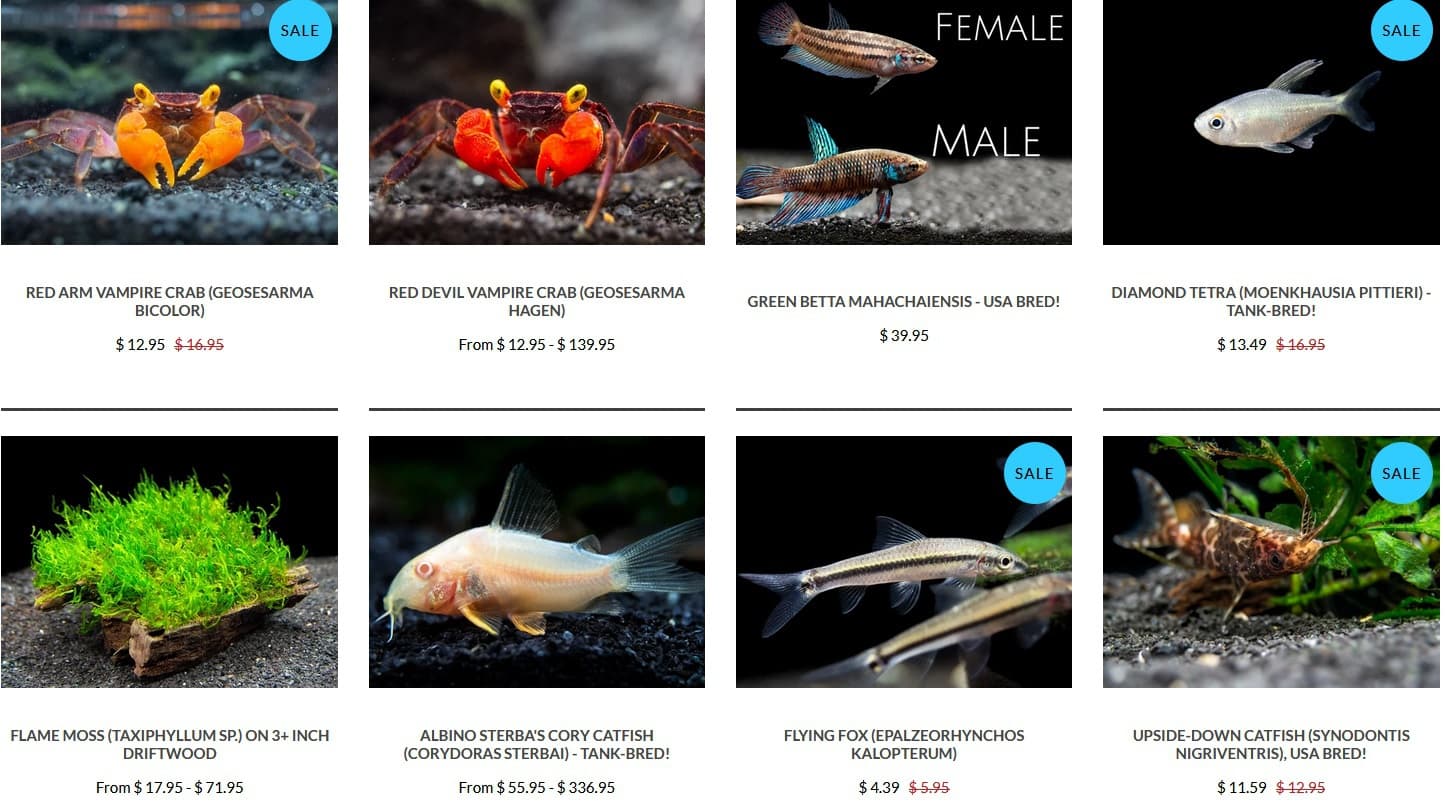 Each online order for live aquarium animals or plants that you place with Aquatic Arts will be shipped within a day, hence their Live Arrival Guarantee.
The shipping is a little on the expensive side because of that, but it's to be expected if you want your livestock to arrive alive and healthy.
The packages will contain ammonia-absorbing media (likely Purigen) and will be diligently put horizontally so that the fish would have more space to swim in during shipping.
The bags will be placed in insulation and will come with heating packs if the shipped fish are tropical but the weather outside is cold during transportation.
From my experience, you'll also get a couple of extra specimens (from the ones you ordered, not random), just to cover for any unexpected losses.
The extras will always be there, regardless of whether you ordered shrimp, fish, or live plants.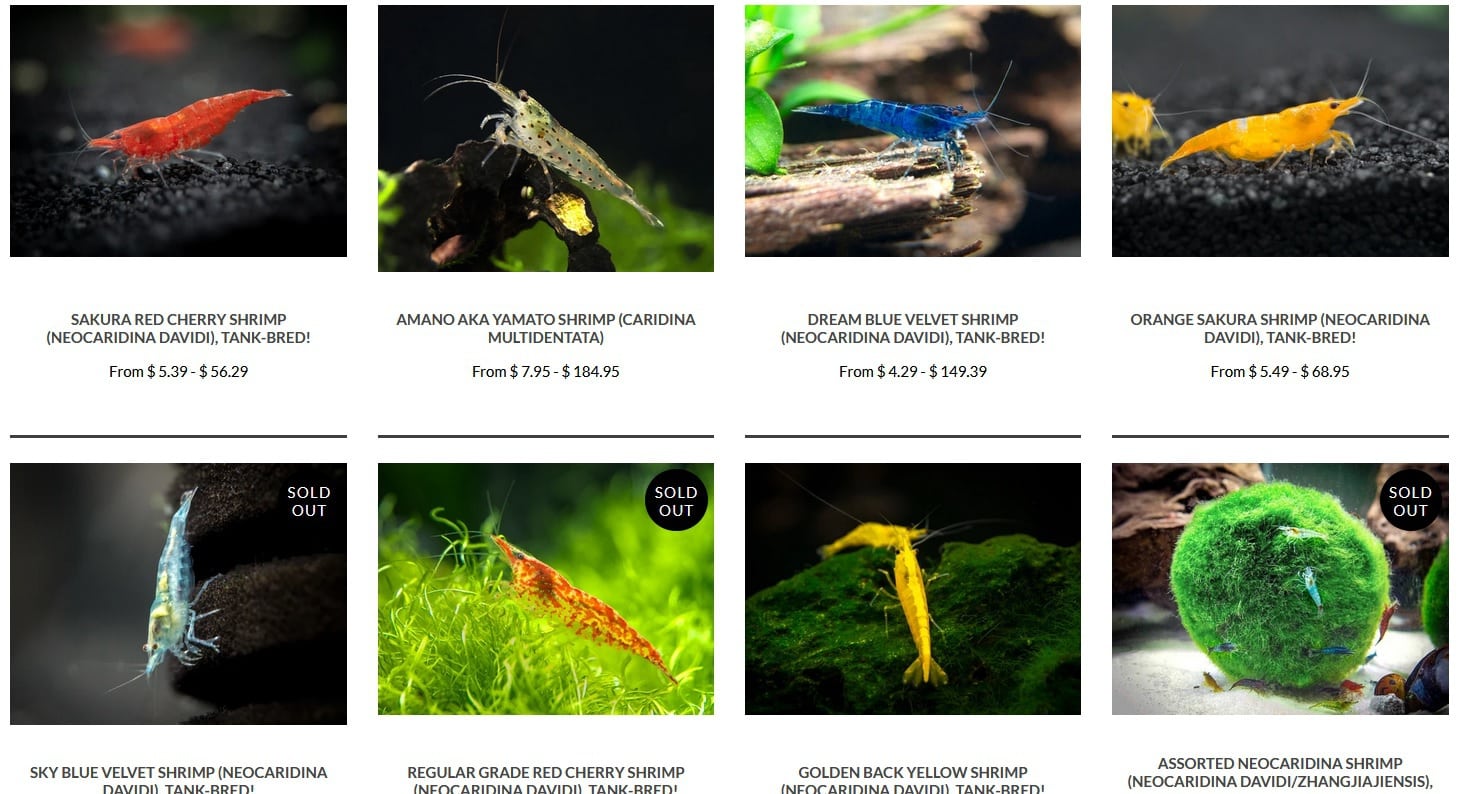 Anyway, in recent years Aquatic Arts decided to stop importing shrimp, because of disease issues.
They solved this by constructing their own shrimp farm and setting quarantine aquariums for their livestock.
Another thing they do to prevent disease is having closed-system tanks, which is a good sign of quality for an online fish retailer – at least in my book.
These efforts alone speak volumes of how dedicated David (the owner) is to his goal of making customers happy and improving the planted tank hobby overall.
Another thing that impressed me with Aquatic Arts was their super-fast email replies and willingness to fix any issues that may arise with your order.
If you happen to receive a fish that's dead on arrival you will instantly get refunded in online store credits.
What Aquatic Arts Offers Online:
Fish: Yes – Freshwater
Invertebrates: Yes – Freshwater shrimp, snails, crabs, crayfish, and bivalves
Aquatic Flora: Yes – Freshwater plants
Supplies: Specific supplies such as fish food, water care products and everything one may need for aquascaping a planted aquarium
Visit Aquatic Arts
Imperial Tropicals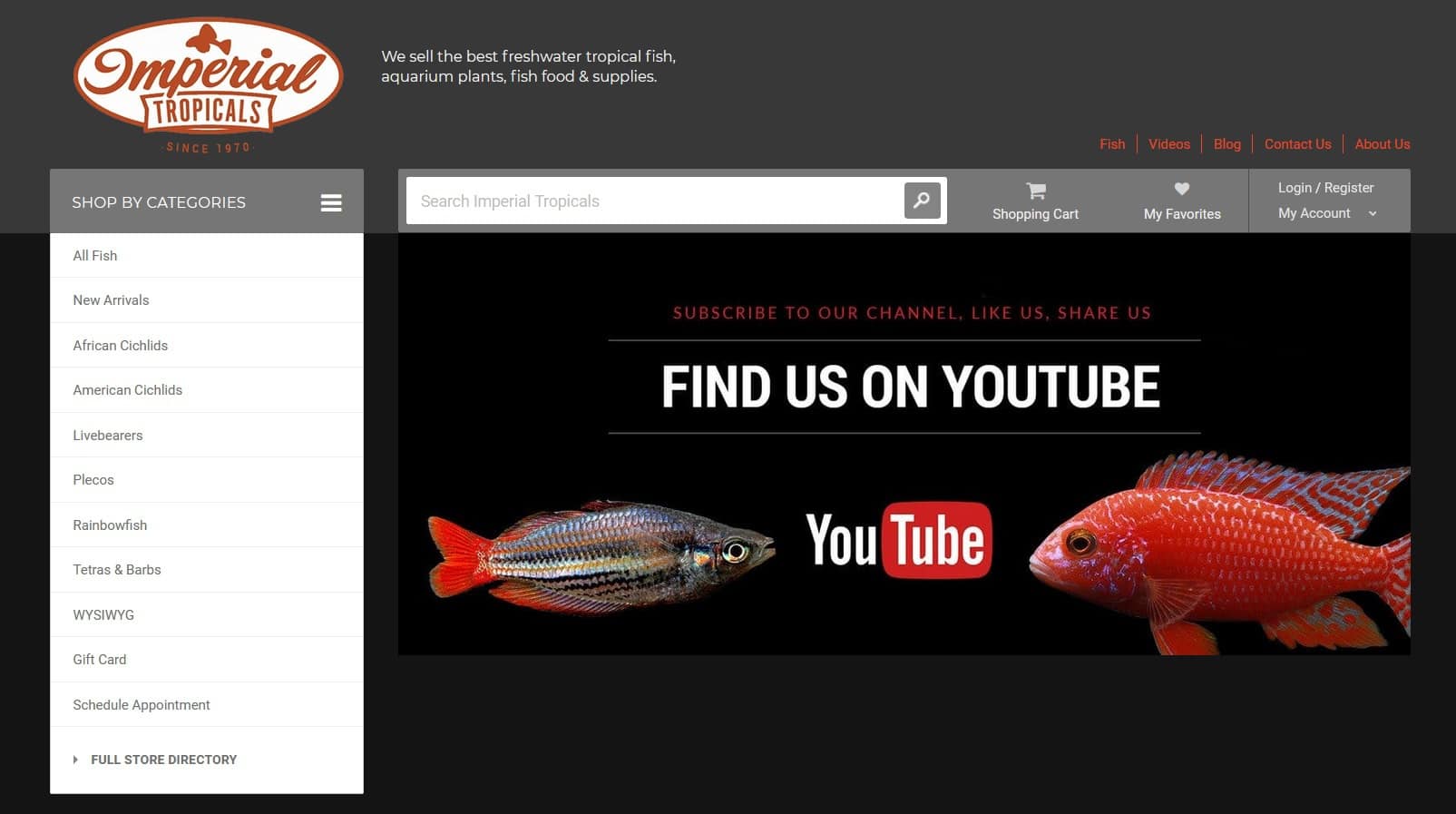 Buying rare and exotic Cichlid fish online is possible if you're doing your shopping from Imperial Tropicals, which is based in Lakeland, Florida.
Imperial Tropicals is one of the best fish supply stores for buying African and American Cichlids online because even when they're low on stock you'll find no less than 200 different species to select from.
On top of that I've seen some pretty interesting dwarf cichlid species there, not available in most physical fish stores I've been to.
Not only that, this place sells all kinds of freshwater aquarium fish.
I stumbled upon their store when I was doing research on buying rare Cichlids online but was very impressed with their Rainbowfish and Pleco collections as well.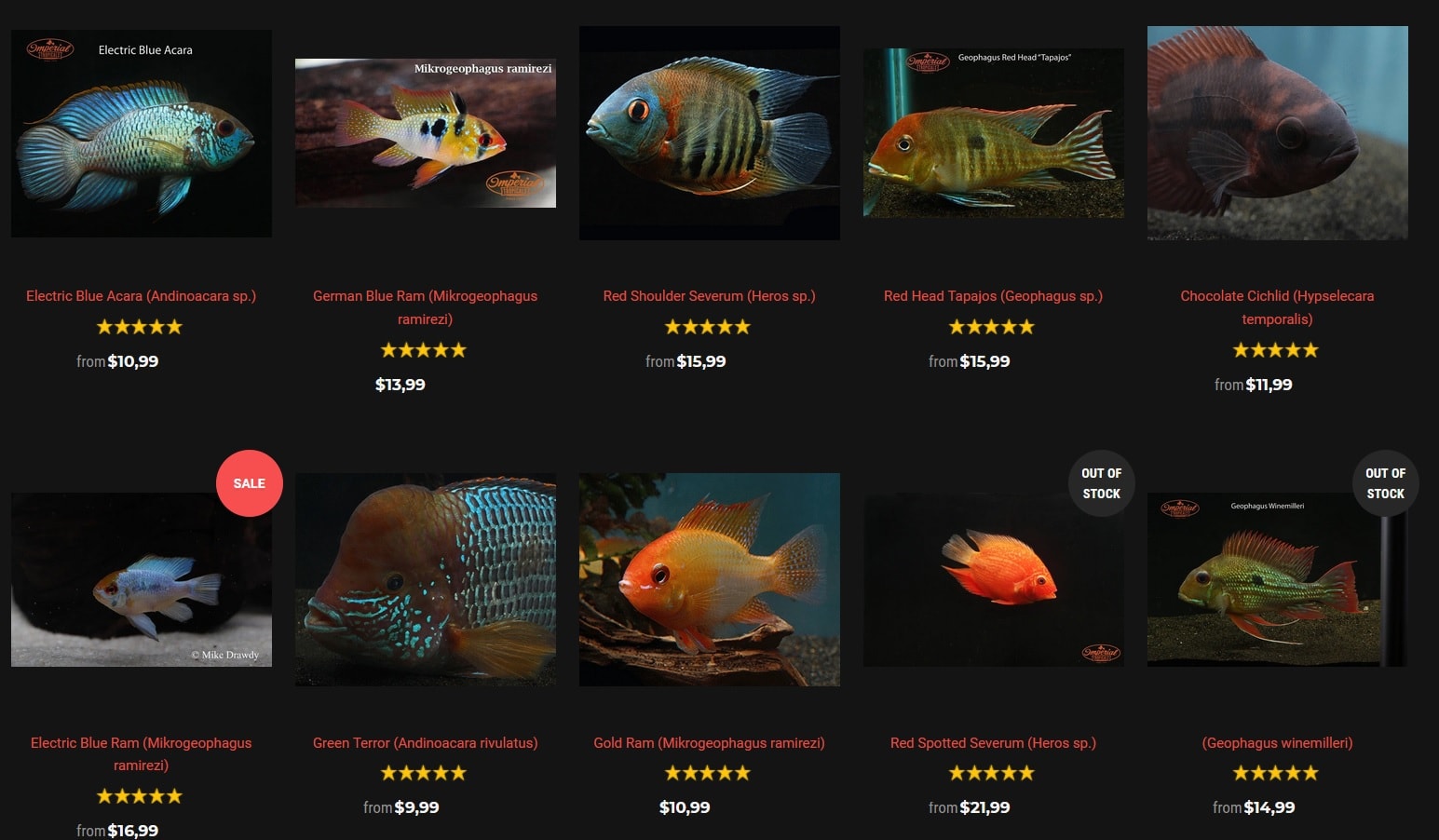 IT offers pretty reasonable pricing on each live fish or invertebrate they have in stock.
Imperial Tropicals also has a selection of basic live plants if you'd want to supplement your new tank with some greens.
It's nothing too fancy, but it covers what a beginner aquarist may need for their planted tank.
The shipping is not among the most inexpensive ones, but it's a flat rate one, and you'll get a discount on larger orders.
Though this is more than welcome when shopping for aquarium fish online, Imperial Tropicals offer a pretty cheap flat Ground shipping to Florida locals.
Just ask them for that if you live near their location, and they will evaluate the distance and the weather forecast before letting you know if you qualify.
My communication with Imperial Tropicals has remained very friendly and they seem to be very responsive and willing to help with online orders.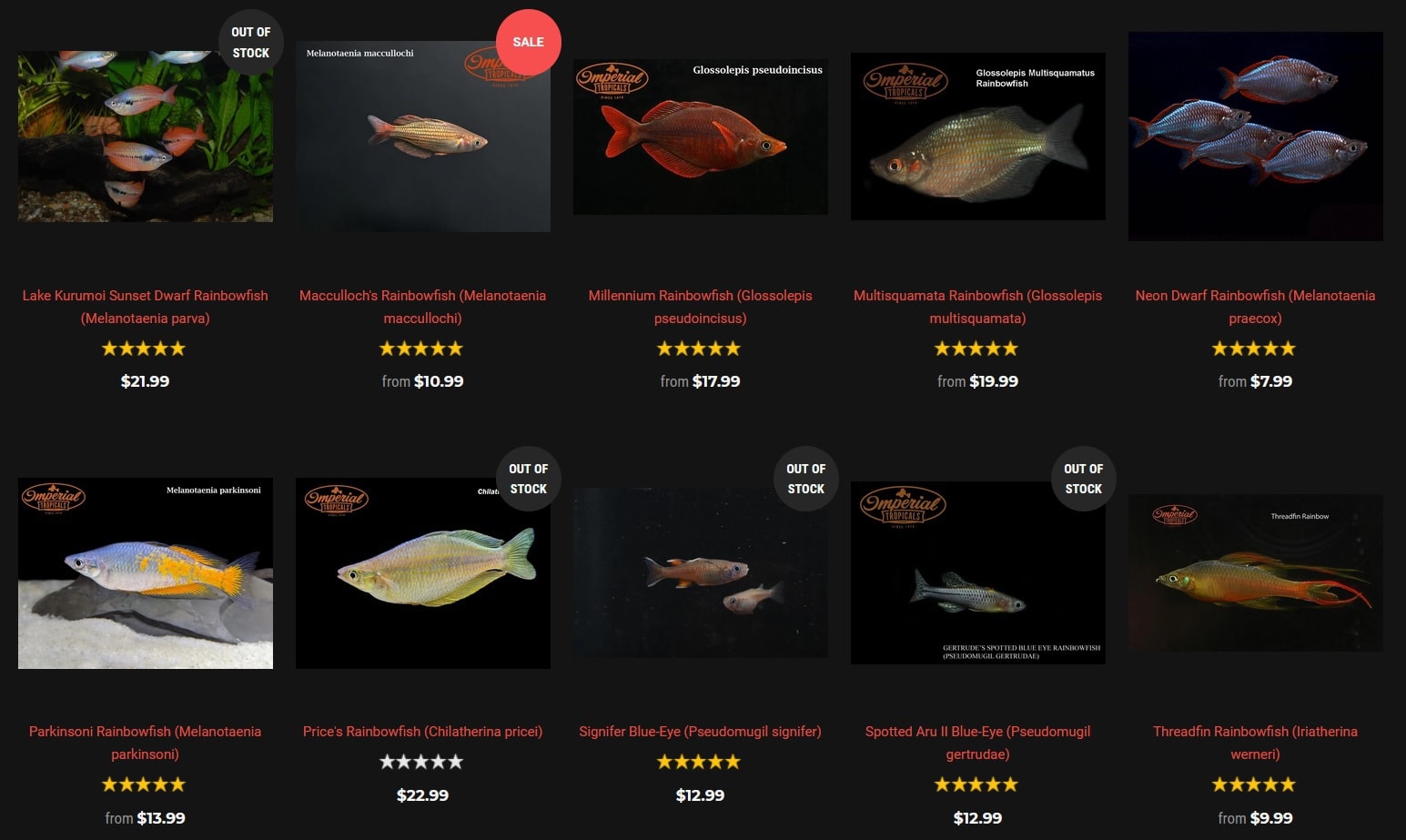 The fish or shrimp you order through them will be expertly packed and come with insulation, media to absorb organic waste, and heating pads depending on the weather.
Extras will likely be included if the shipping is estimated to take longer or the outdoor temperatures seem unstable.
The fish that you get from this online vendor seem very healthy and happy upon arrival and most of the time they will start eating and acting normally right away.
Don't forget to visit Imperial Tropical's Full Store Inventory or you might miss their invertebrate and oddball collections.
What Imperial Tropicals Offers Online:
Fish: Yes – Freshwater, with a very diverse selection of African and American Cichlids; There's also a What You See is What You Get (WYSIWYG) section
Invertebrates: Yes – Freshwater snails, shrimp, and crayfish
Aquatic Flora: Yes – Freshwater plants
Supplies: No
Visit Imperial Tropicals
LiveAquaria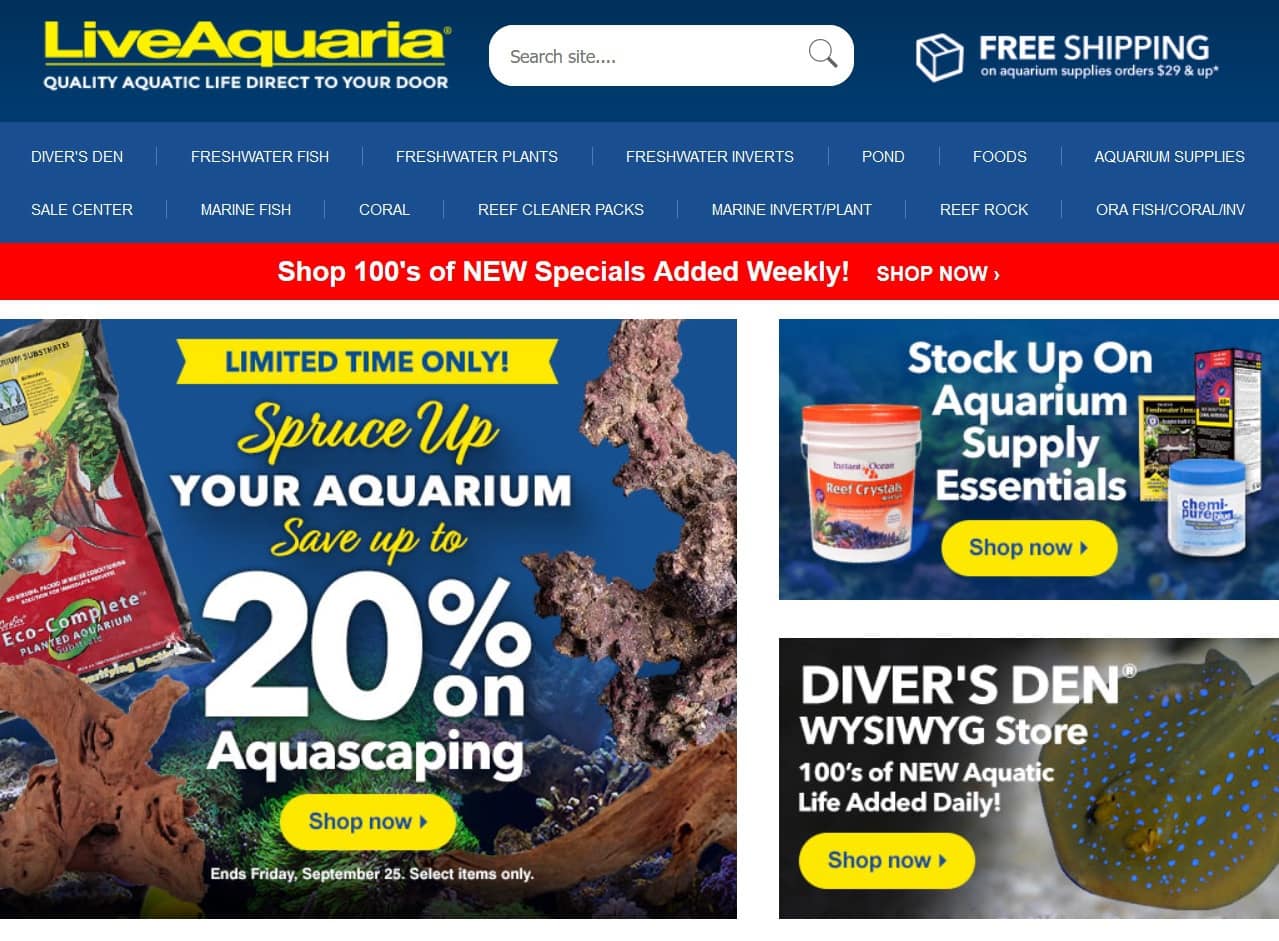 LiveAquaria is an online aquarium store that offers everything from freshwater fish to exotic saltwater species, reef corals, and tank equipment.
Obviously, having a super wide variety of available goods does not necessarily equal the best quality.
However, LiveAquaria has two main advantages that have helped it become one of the top online choices when it comes to shopping for aquarium fish.
The first one is their 14-day Stay Alive guarantee period.
Basically, if a fish dies within 14 days of its delivery LiveAquaria will refund you as soon as you send them a photograph of the dead fish.
They honor the 14-day Arrive Alive, Stay Alive Guarantee and they also have a 30-day guarantee on some of their captive-grown corals. Most online fish stores just can't beat that, especially when selling sensitive marine species.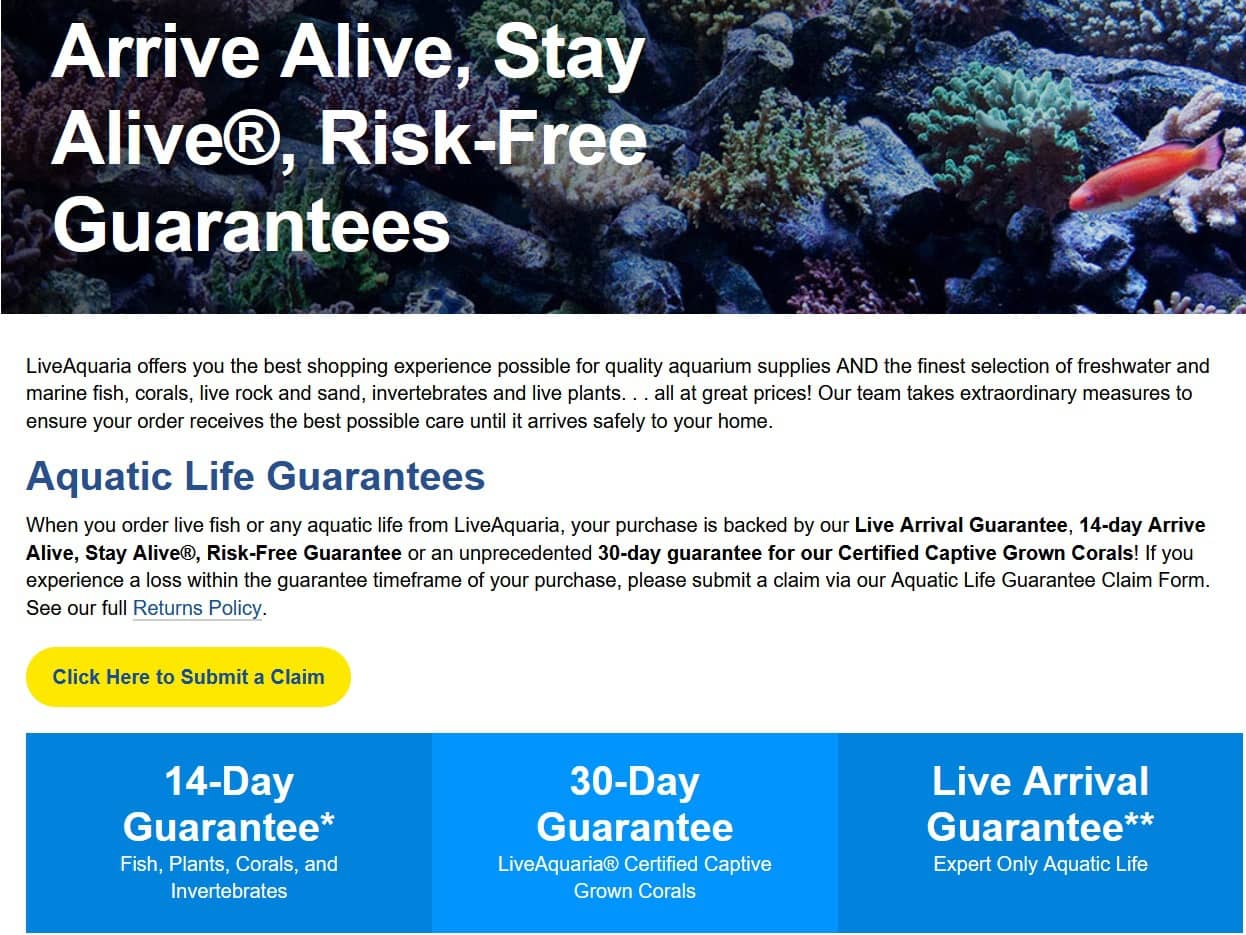 You need to follow LiveAquaria's acclimatization guidelines for the guarantee to apply though.
Also, know that the guarantee doesn't apply to Expert Care Level fish and invertebrates.
I've never had a problem with getting refunded and their customer support is full of helpful and understanding people.
Also, almost always the fish I buy from them arrive healthy and strong.
Anyway, the other big advantage of LiveAquaria is their Diver's Den ® collection.
This is a separate physical facility of LiveAquaria based in Rhinelander, Wisconsin.
If you're going with LiveAquaria I strongly recommend that you shop through Diver's Den as there are numerous advantages to it.
Diver's Den is basically a WYSIWYG collection of aquarium fish and aquatic flora that has gone through acclimatization and quarantine.
The Diver's Den is extremely popular among marine aquarists as most saltwater fish that go in our reef tanks tend to be more fragile and way more expensive than freshwater ones.
The coral selection in DD is also very high in quality and you likely won't be disappointed if you decide to buy stock for your reef tank from there.
Also, the livestock photos in the Diver's Den are very authentic and clearly represent what you're getting.
The fish, plants, and corals offered in the Diver's Den are limited in quantity, so if you spot something you want to buy – act quickly.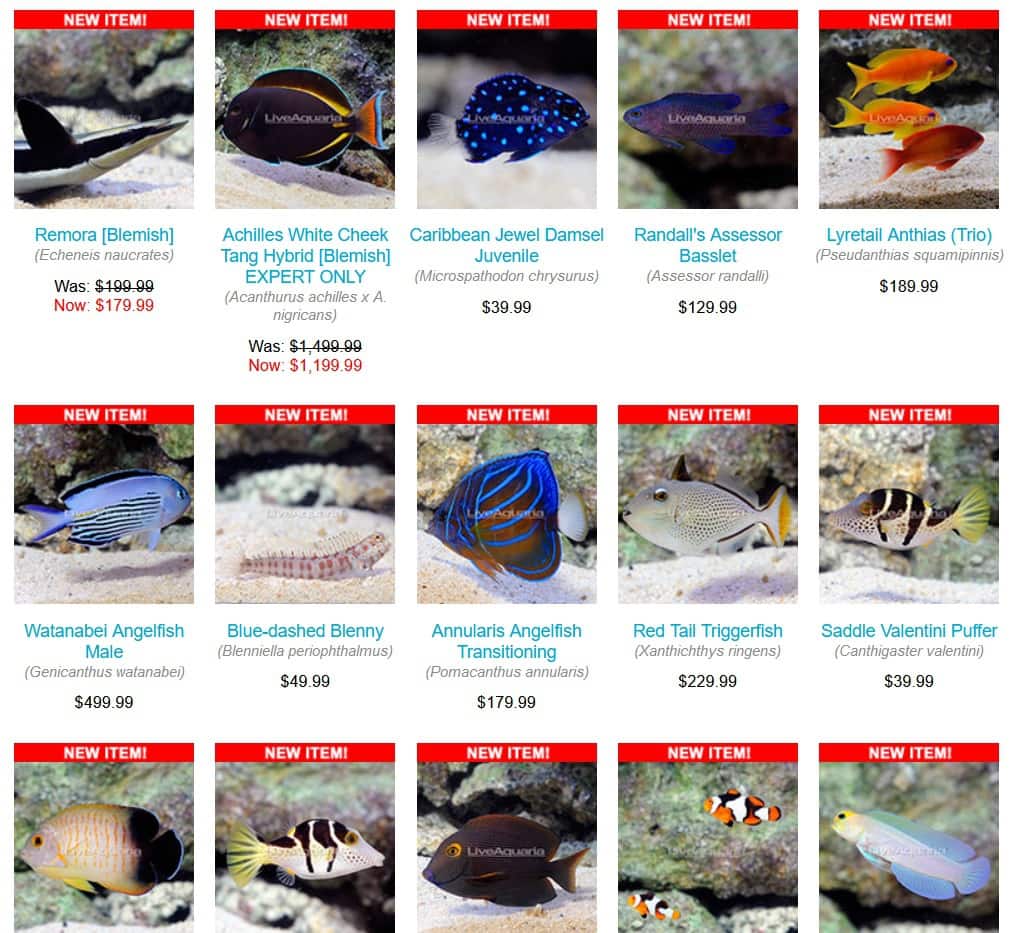 Anyhow, LiveAquaria has very competitive prices on their live saltwater fish and is an excellent place to buy stock for a marine aquarium.
They offer free shipping on larger online orders, which is also rare even among the best online fish stores.
What LiveAquaria Offers Online:
Fish: Yes – Freshwater and saltwater; There's also a What You See is What You Get (WYSIWYG) section that goes under the name of Diver's Den and has some exotic species
Invertebrates: Yes – Freshwater and saltwater shrimp, snails and slugs, pre-built reef cleaner packs, starfish, lobsters, crabs, etc.
Aquatic Flora: Yes – Freshwater plants, Reef corals that can also be captive-grown (ORA)
Supplies: Yes – a basic collection of the most popular aquarium gear, with an accent on high-end equipment for reef tanks
Visit LiveAquaria
TSM Aquatics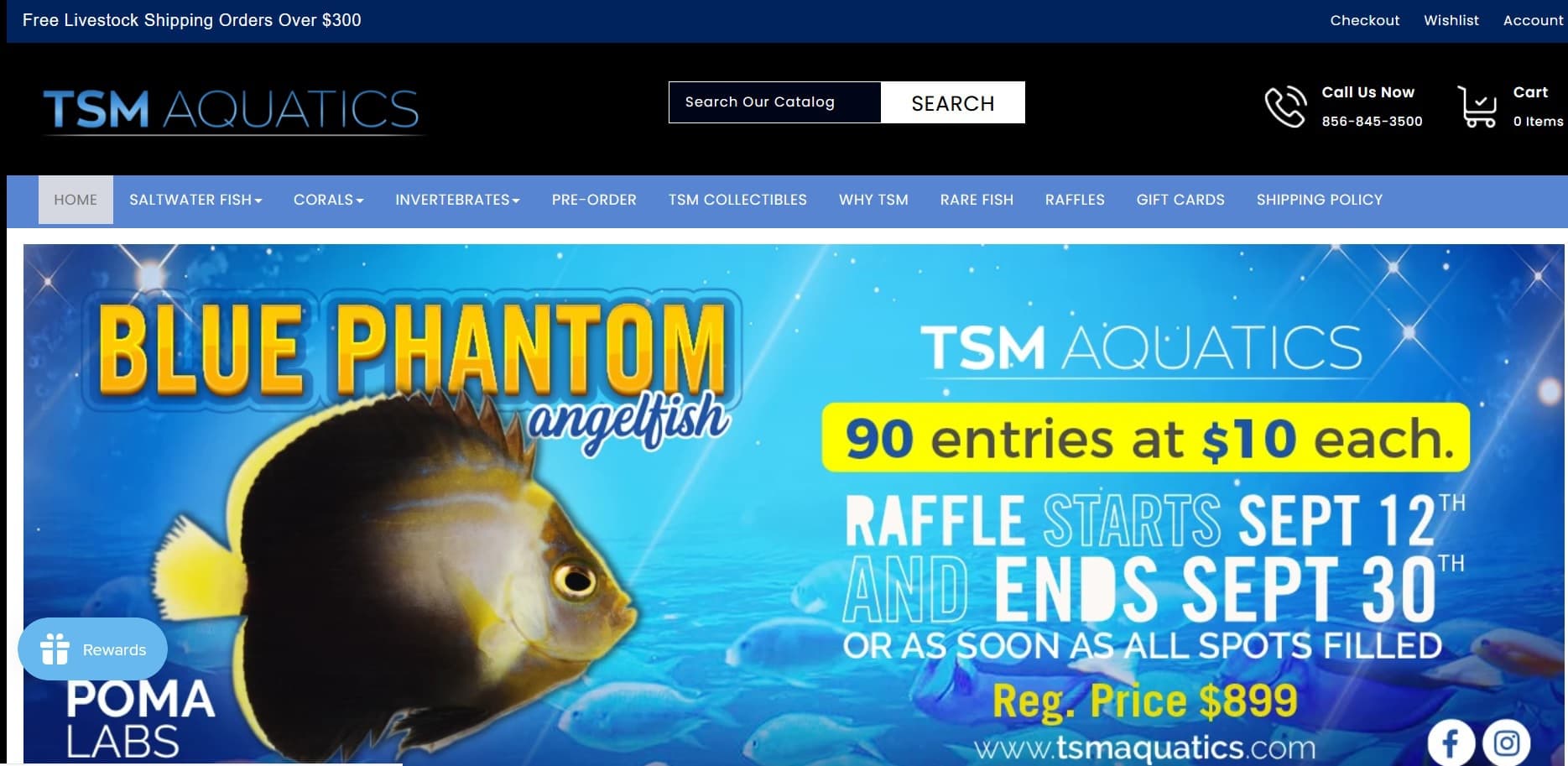 TSM Aquatics is a premium online store offering marine fish and corals that's located in Sewell, NJ.
What makes TSM Aquatics one of the best places to shop for saltwater livestock online is that all of their fish go through 5 weeks of quarantine.
The guys at TSMA will spend the time and money to pre-treat each entry in your aquarium wishlist with different medications.
A lot of hobbyists don't really have the time (or knowledge) to quarantine their new fish or coral the right way.
Here's why I think this is so valuable:
We all want to have beautiful saltwater fish but they tend to be expensive. It's just sad when you finally save up to buy your favorite Angelfish or Tang just to see it covered in nasty white spots a couple of days later.
In case you don't want to spend hours and resources on researching treatment methods for saltwater Ich, you could just buy a healthy fish from TSM Aquatics.
All the fish that I've seen delivered from these guys exhibited natural behavior and started eating well in just a couple of hours after arriving.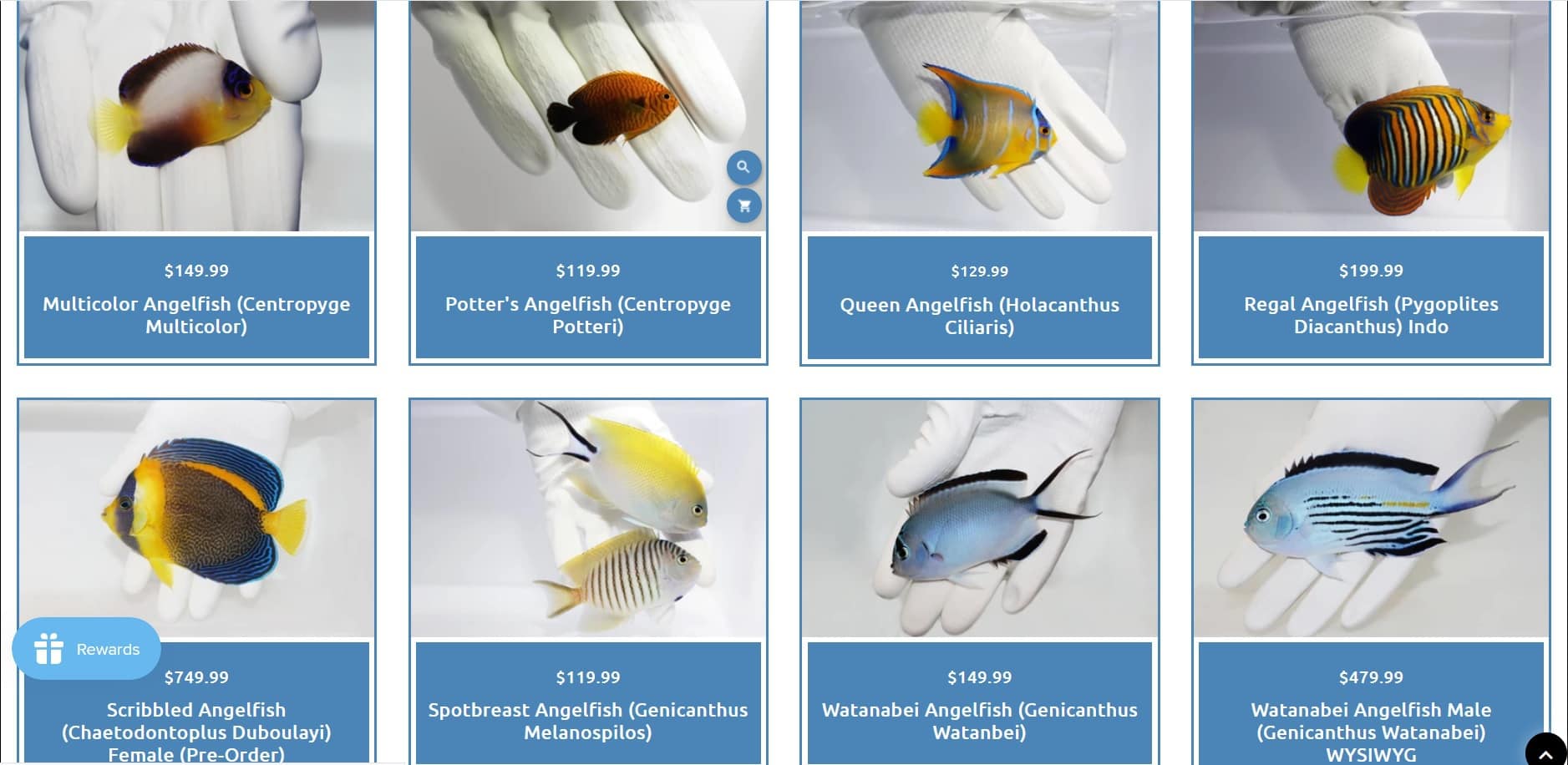 This type of convenience is obviously reflected in the price of each fish and coral frag, so do prepare to go broke because the selection TSM Aquatics has is just striking.
Seriously, I would say the prices are adequate, given the wide variety of rare saltwater fish, and the headaches and resources you'll save yourself in the future.
What TSM Aquatics Offers Online:
Fish: Yes – Saltwater; Make sure to check the Rare Fish section that usually contains a couple of WYSIWYG entries that you may not find elsewhere
Invertebrates: Yes – Saltwater shrimp, snails, crabs, sea stars, anemones, and even fan worms
Aquatic Flora: Yes – SPS corals, LPS corals, Zoanthids, and mushrooms; Do check the WYSIWYG section for corals as there are some pretty neat entries there
Supplies: No
Visit TSM Aquatics
The Wet Spot Tropical Fish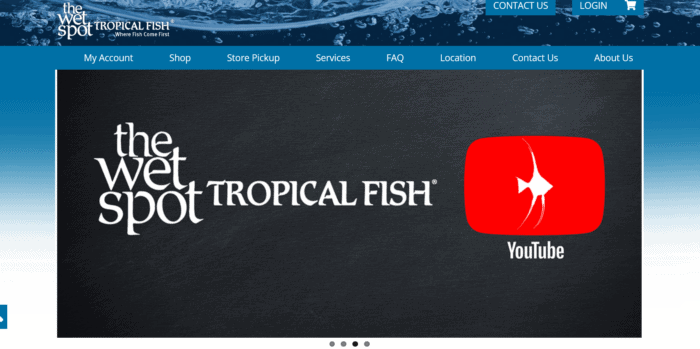 The Wet Spot Tropical Fish is a reputable store for freshwater fish that's based in Portland, Oregon.
I have been very happy with every online order I've placed with them.
They have an impressive selection of freshwater pet fish, invertebrates, and aquarium oddballs.
The prices for each species are right and often lower than in your local fish store.
Their customer support is top notch and they always make sure to pack each live fish very professionally.
The fish I've received from them always came in excellent health.
The shipping costs on orders placed with the Wet Spot Tropical Fish are a little on the expensive side, but to me, that balances out the huge selection of species and the competitive individual prices.
Note that residents of Oregon and Washington will benefit from lower shipping prices.
Anyway, if you're a connoisseur of rare African Cichlids or cool-looking fish such as the unique Rainbowfish and Killifish species then this online store may be your best bet.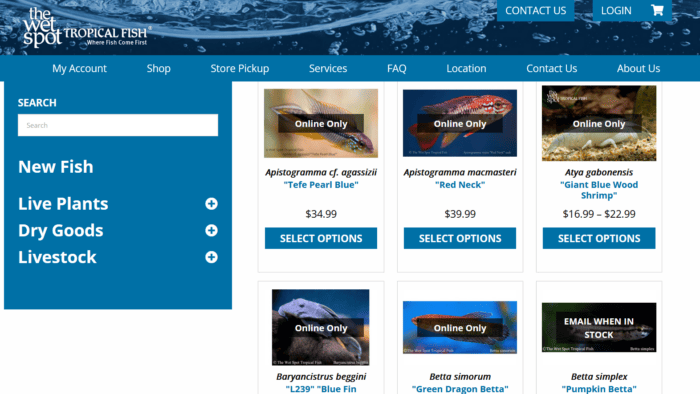 They also have a Fish Request Form buried in their FAQ page if you're not able to find what you want.
If by any chance, you receive a fish that's DOA (Dead On Arrival) The Wet Spot will cover it as long as you send a photo of the animal within 24 hours of receiving it.
Something I did not like about my online shopping experience with The Wet Spot Tropical Fish is that their website is not very user-friendly.
The search bar does not work as I would like it to and you'll need to click through multiple drop-down menus and photo links.
Nevertheless, The Wet Spot Tropical Fish remains one of my favorite places to buy freshwater fish online, and the look of their website never stopped me from ordering with them.
What The Wet Spot Tropical Fish Offers Online:
Fish: Yes – Freshwater, and one of the best collections you could find online; very good Oddball picks, which includes freshwater pet eels
Invertebrates: Yes – Freshwater shrimp and snails; it's a small collection, but the entries are worth checking out
Aquatic Flora: Yes – Freshwater plants
Supplies: No
Visit The Wet Spot Tropical Fish
Flip Aquatics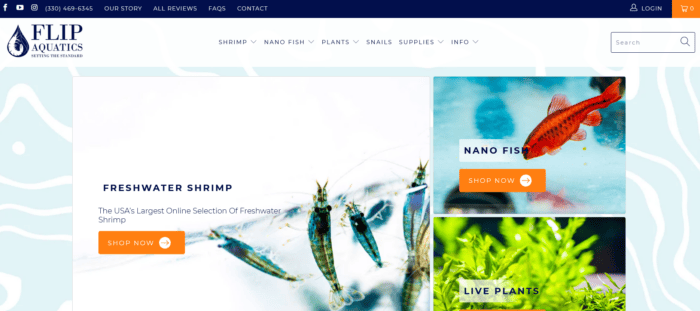 Flip Aquatics is one of the best places where you can buy livestock for your nano aquarium online.
Their physical facility is located in Warren, Ohio.
This online store offers everything you may ever need for a decent-looking planted tank.
Flip Aquatics have a sizable selection of freshwater shrimp and some of the smallest aquarium fish that may complement each other in your tank.
They are a great online vendor if you're looking for ideas to stock your first small fish tank.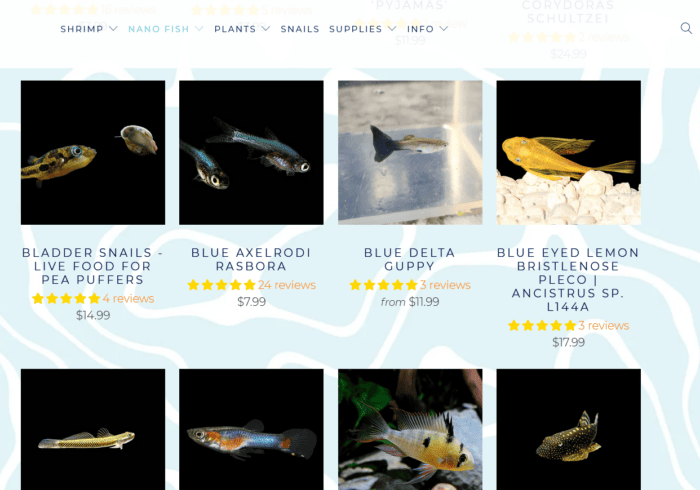 You can also buy aquatic live plants from FA though their plant selection is not the most diverse you could find online.
However, each live plant you may get from their website is there precisely because you could likely find it in most good-looking shrimp aquariums.
The shipping costs are your usual ones for online fish shopping and there's a Live Arrival Guarantee on their next-day shipping option.
Flip Aquatics take the time to quarantine and treat (if needed) all of its livestock.
Because shrimp may mold and become more vulnerable during shipping, Flip Aquatics keeps all newly imported arrivals for at least 30 days.
This way FA makes sure the shrimp recover well before shipping them out to your front door.
The nano fish you buy from this place will be quarantined for at least 2 weeks, as well. When you order from Flip Aquatics you are likely to receive some extras just in case of losses during transportation.
One caveat about this online aquarium store is that their prices are a little higher, but I'm assuming that's due to all the effort they make to quarantine their livestock.
You could learn more about Flip Aquatics' processes from their YouTube channel.
What Flip Aquatics Offers Online:
Fish: Yes – Freshwater; They offer nano fish that would supplement a planted aquarium
Invertebrates: Yes – Freshwater shrimp, snails, and crabs; The shrimp selection alone includes over 40 entries with some very rare and exotic species
Aquatic Flora: Yes – Freshwater plants
Supplies: Yes; Mostly specific equipment you'd need to start a planted shrimp tank, including aquascaping it with cool rocks and aquarium-safe driftwood
Visit Flip Aquatics
Dustin's FishTanks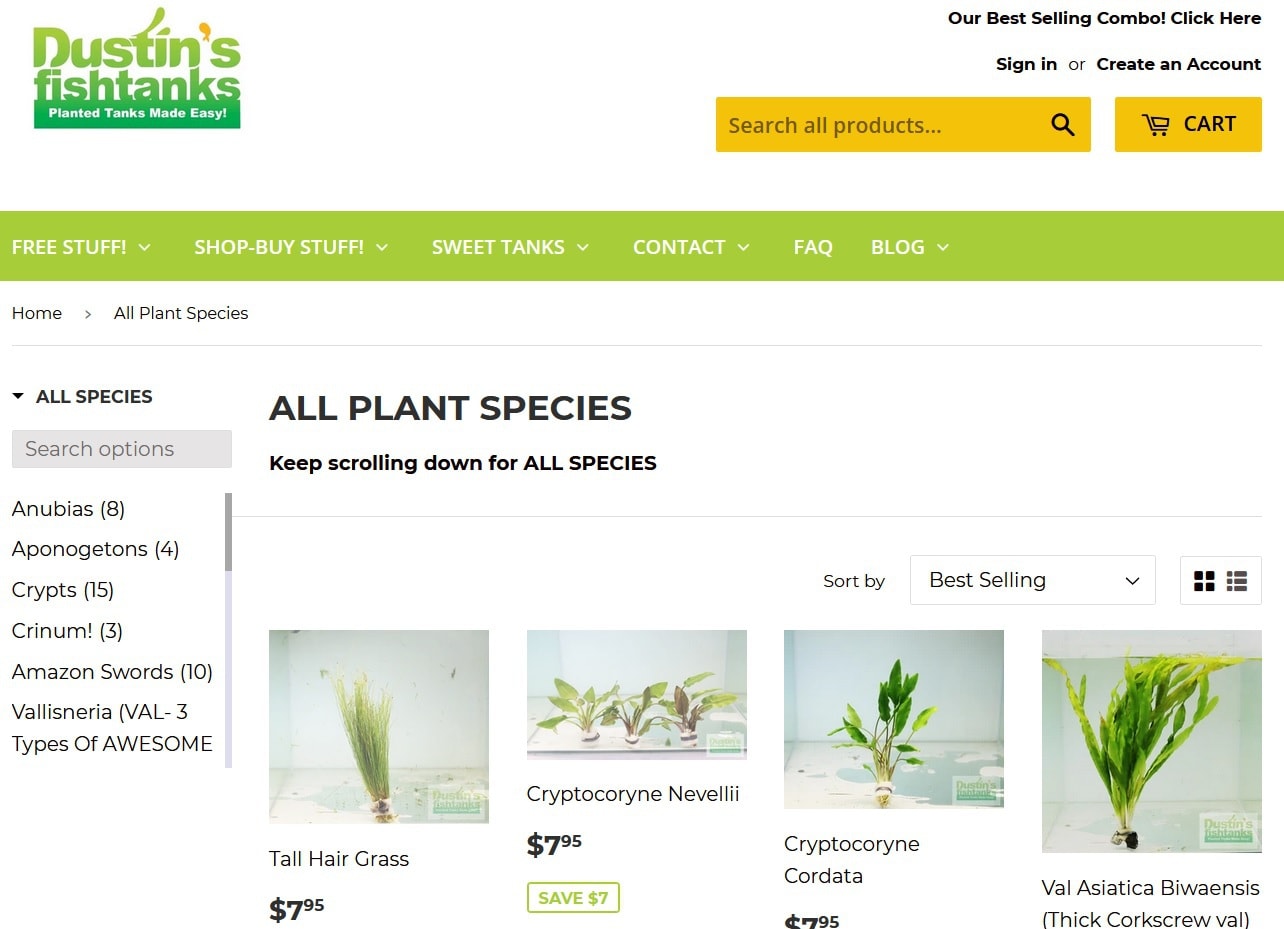 Based in Nicholasville, KY, Dustin's Fish Tanks is an online shop where you could order live aquarium plants for your planted tank.
Slowly but surely, Dustin has been building his reputation within the community with his YouTube channel.
What I like about this online store is the level of care it takes for its aquatic plants.
They go the extra mile and actually convert the plants from being grown immersed and are growing them submerged for you.
Doing so minimizes the "leaf melting" you may experience if you get a freshwater plant that's been grown above water.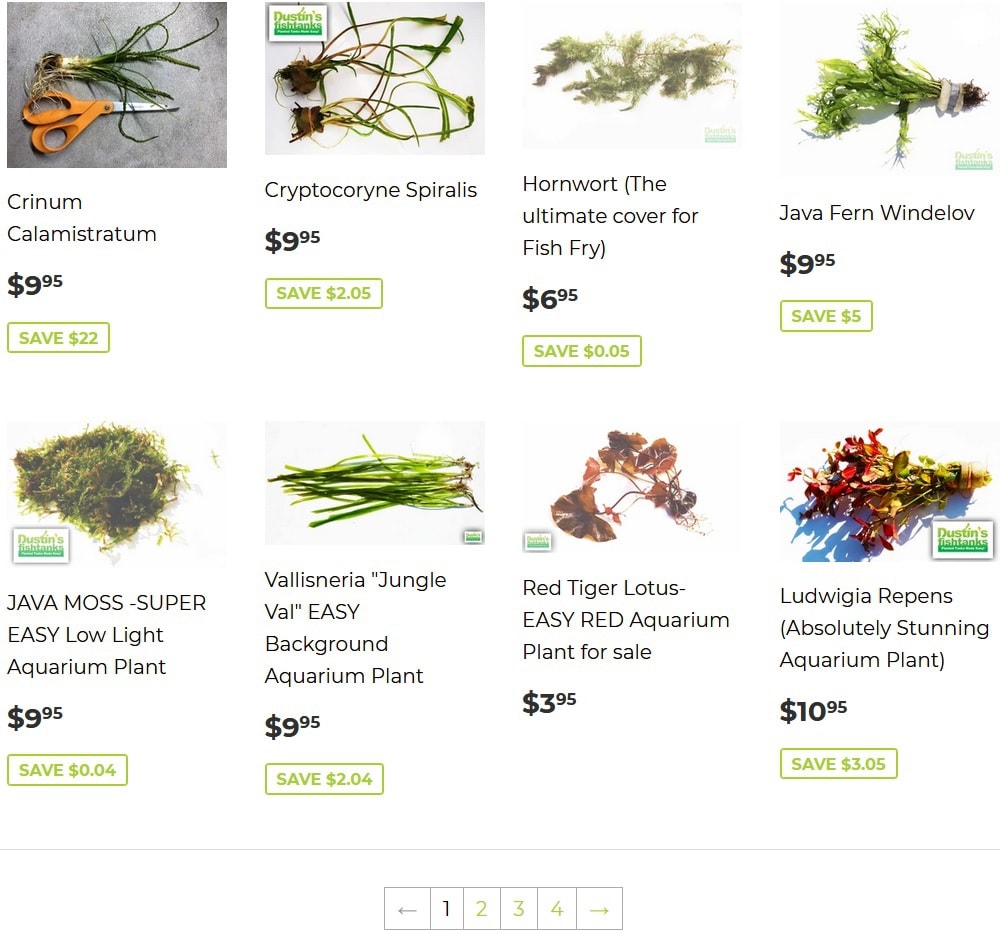 Their prices are within the reasonable ballpark for an online retailer and they will always send you something extra or be very generous with the portions.
The plants you'll get will be healthy, clean from hitchhiking pest snails, and will take off easily.
The selection of plants this store has is rather impressive and both beginners and advanced hobbyists will find something for their planted tank.
You could find rare and difficult red plant species that require some of the best aquarium lights to grow.
It's very likely that aquatic plant fertilizers will also be needed if you end up buying red plants.
Dustin has some fertilizers to offer and he also has his own branded series of aquarium substrates.
Suggested Read: CO2 Regulators for the Stable Planted Aquarium
On the other hand, there are some easy carpeting plants like the Dwarf Hairgrass and others that are plain hard to kill such as the Java Fern and its varieties.
Dustin's collection also contains some good floating plants for beginners in the aquarium hobby.
To me, the combination of these qualities makes Dustin's Fish Tanks one of the best places where you can buy live plants for your aquarium online.
What Dustin's FishTanks Offers Online:
Fish: No
Invertebrates: No
Aquatic Flora: Yes – Freshwater plants
Supplies: Yes
Visit Dustin's FishTanks
Tidal Gardens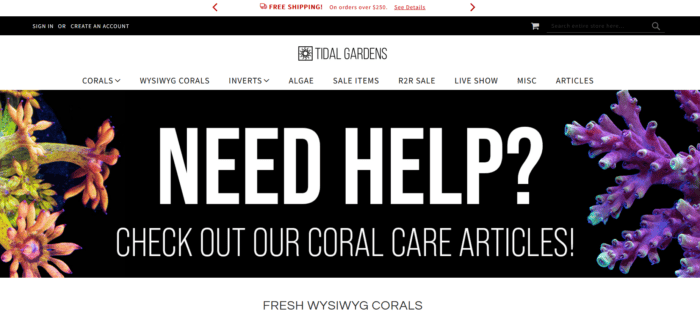 Located in Copley, Ohio, Tidal Gardens is an online store that specializes in coral reef aquaculture.
Needless to say, when I decided I would buy the corals for my reef tank online I did some solid research.
I can't stress enough how amazed I was when I placed my order with Tidal Gardens.
Through my communication with them, I got the feeling that they actually cared if I got a healthy pack of corals.
The people there were very responsive and polite. They were able to make some customizations to my online order.
What astonished me the most with Tidal Gardens, however, was what I got in the delivery box.
The photos of my selected corals did not turn out Photoshopped, as with some other online coral stores I've tried.
Instead, each SPS or LPS coral I bought looked the same if not better than its image representation on the Tidal Gardens website.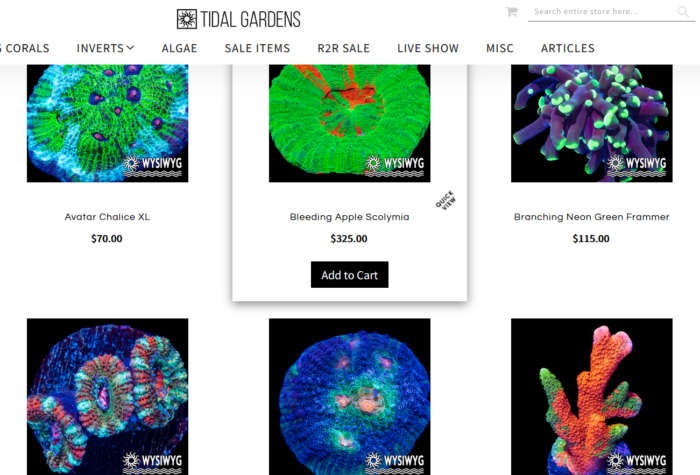 Also, their WYSIWYG Corals section is definitely worth checking out if you're into rare and exotic finds.
There, you may find some really cool species, besides the occasional Hammerhead Coral.
Moreover, all of them were either already opening in the bag or opened during the acclimatization period.
Anyone who has kept a reef aquarium can tell you that this is something out of the ordinary and a huge green flag for quality care by the seller.
Anyway, the packaging was also flawless and my LPS and SPS corals came with the much-needed heat pads.
Needless to say, I couldn't be happier with what Tidal Gardens has to offer and I consider them one of the best in the branch.
Note that though Tidal Gardens have a great selection of high-end reef livestock, there are also online vendors that specialize in specific types of corals.
For example, if you're heavily into SPS corals and want to buy some rare species I recommend also checking BattleCorals.com.
What Tidal Gardens Offers Online:
Fish: No
Invertebrates: No
Aquatic Flora: Yes – Reef corals; An exceptional regular selection + Don't forget to visit their WYSIWYG section for the rare species
Supplies: No
Visit Tidal Gardens
Amazon.com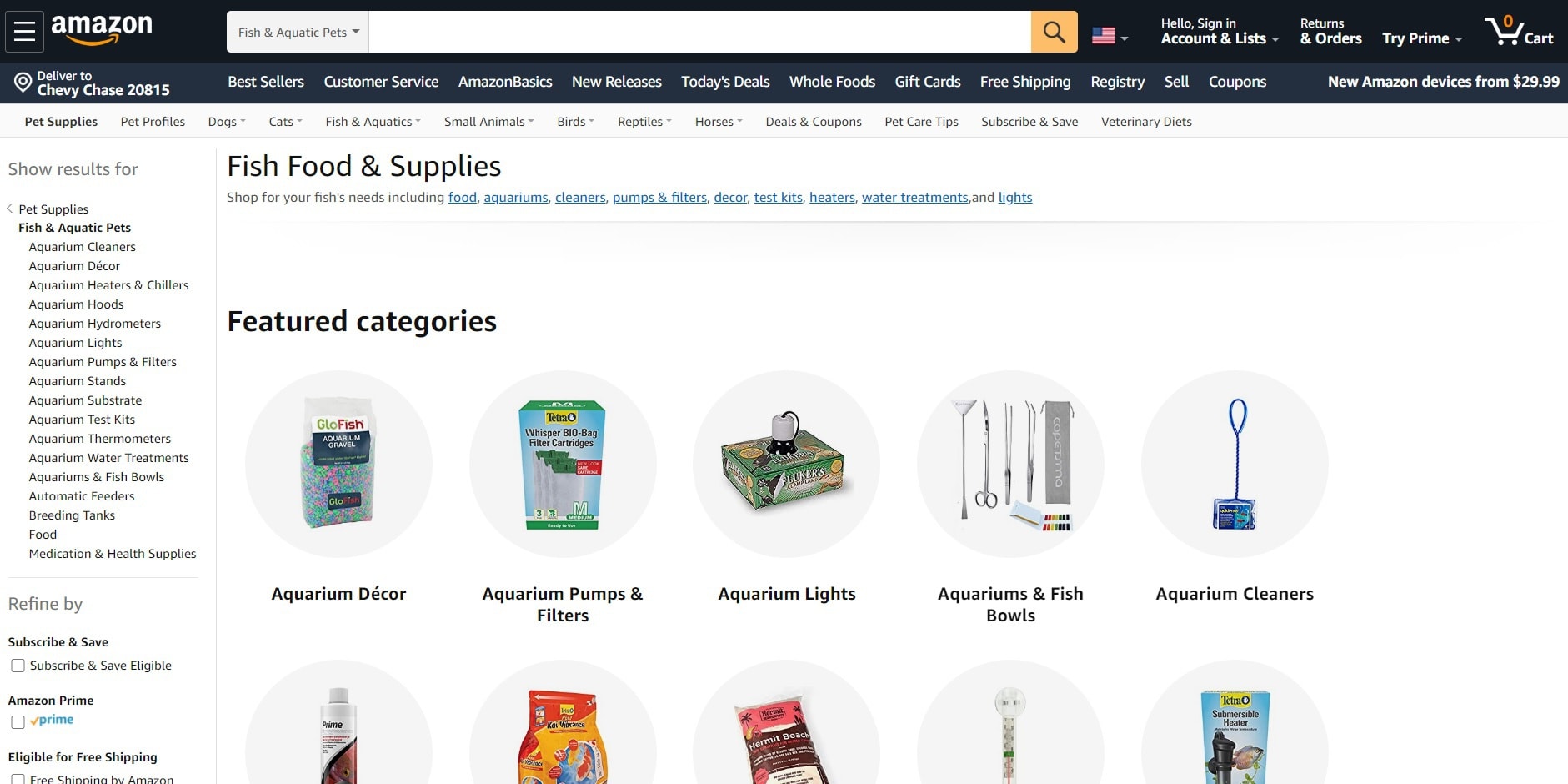 Amazon.com is not only one of the largest online stores in existence, it is also among the best places to buy aquarium fish supplies.
Amazon has become popular with its comprehensive list of goods, reliable shipping policies, and competitive prices.
You can almost always find a deal for a product there.
In their online store, you can buy a diverse range of aquarium supplies and the cool thing is that there are thousands of user reviews to read on each product.
This effectively throws the guessing factor out the window, because Amazon has rather strict policies about the authenticity of each review.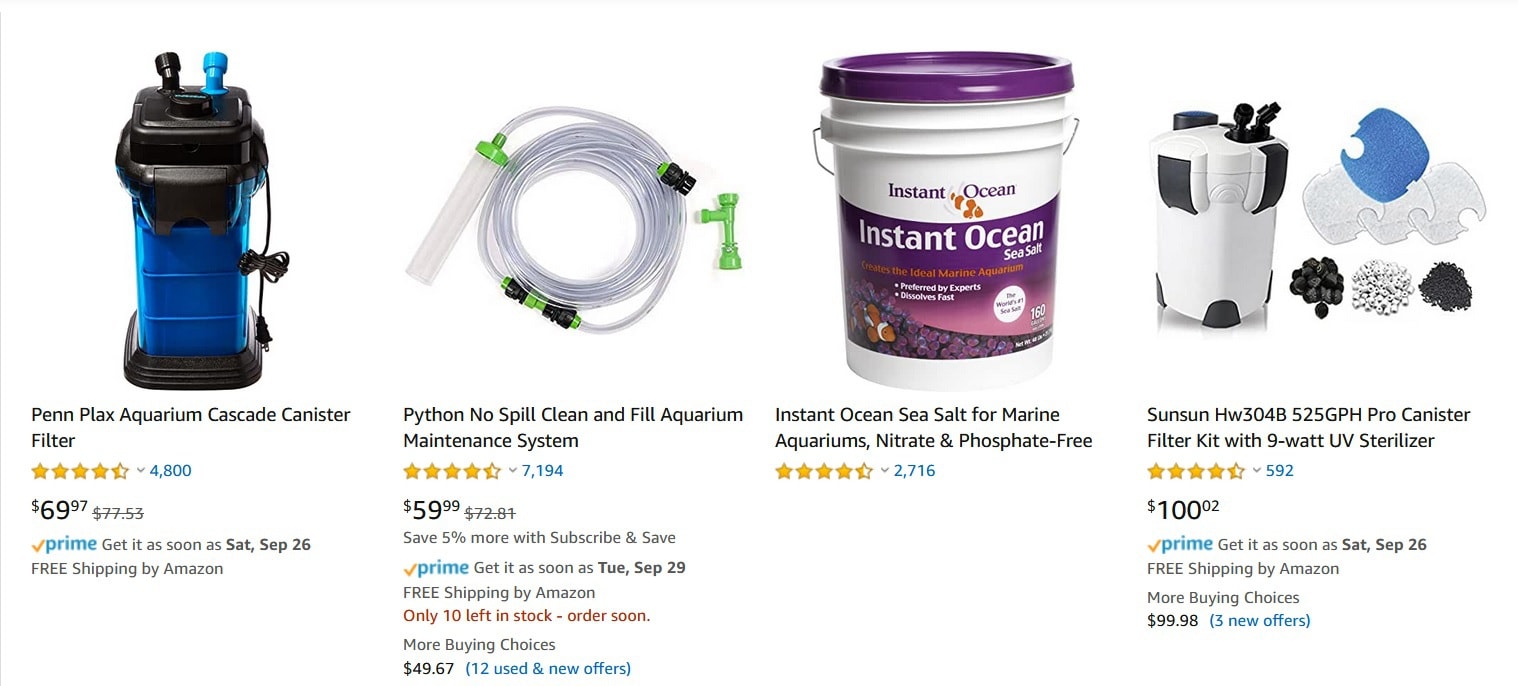 Anyway, there are also live fish on Amazon.com, however, I don't have experience with these vendors.
On the other hand, I have a couple of sellers that I get aquarium plants from and I've always been happy with their livestock.
Nevertheless, on Amazon, you can find anything from LED aquarium lights to aquatic bacteria supplements.
Along with Chewy (next entry), Amazon is likely one of the best go-to stores for fish supplies online.
Shopping tip: Don't forget to sign up for Amazon Prime when doing your shopping there. Prime members get huge benefits such as free shipping and discounts on millions of products.
The other good thing about Amazon Prime is that it has a 30-day free trial, which means that you can try it and unsubscribe in case you don't like it.
Give it a shot, it only takes a couple of minutes to sign up.
What Amazon Offers Online:
Fish: Yes
Invertebrates: Yes
Aquatic Flora: Yes – Freshwater plants; You need to familiarize yourself with the vendors before buying
Supplies: Yes; A very comprehensive selection of hot-selling aquarium products with some of the best prices online
Visit Amazon
Chewy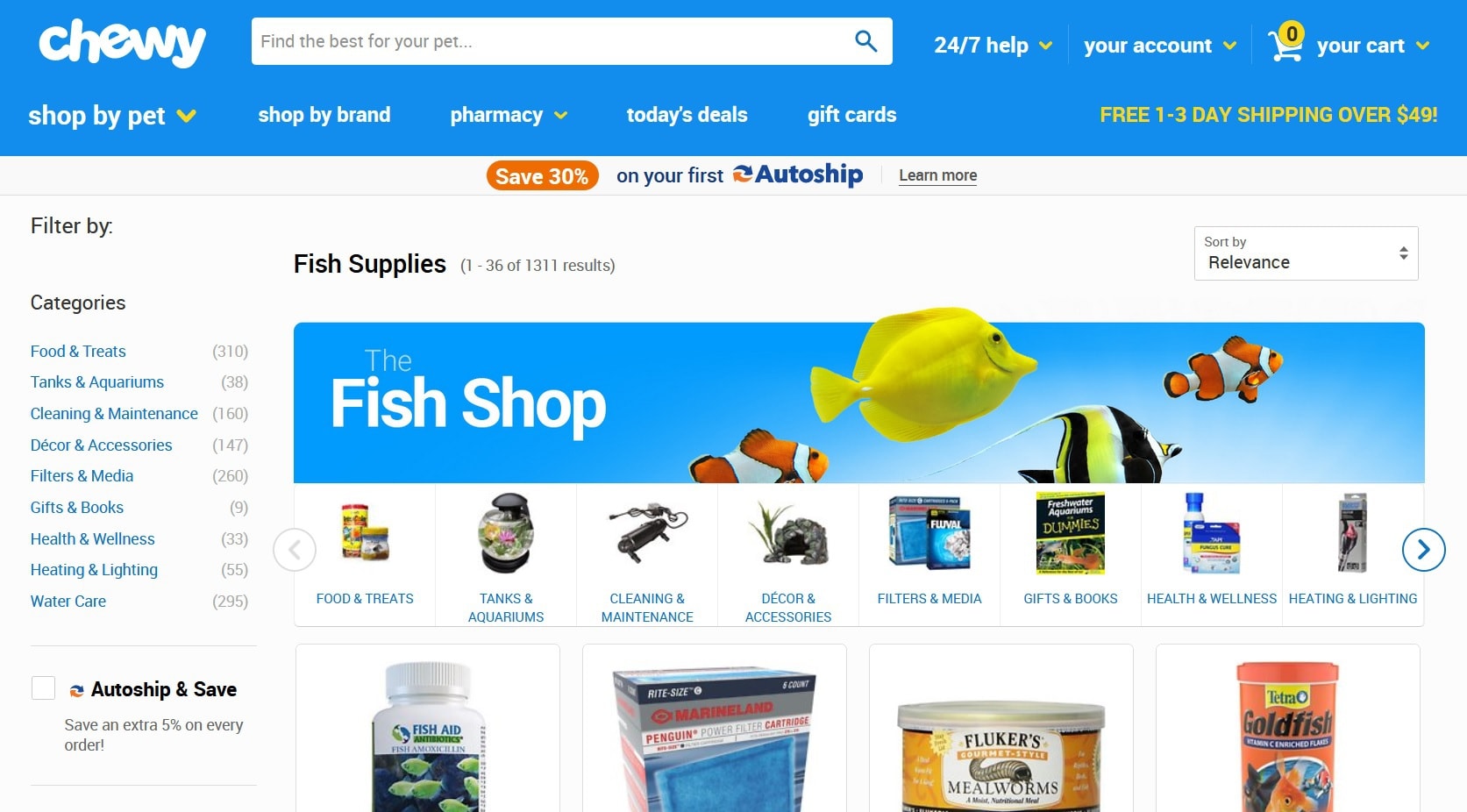 Chewy is an online store for pet supplies that has 12 physical fulfillment centers spread over many states in the USA.
Notable states the company operates in are FL, MA, AZ, IN, KY, NV, PA, OH, NC and TX.
Though their overall inventory of aquarium supplies is not as large as Amazon's they still have a very comprehensive list of items.
At Chewy you could find anything from quality Cichlid food, through aquarium filters, to even lighting for turtle tanks.
Most top-selling fish products on Amazon are also available at Chewy, and, often, the prices are significantly lower.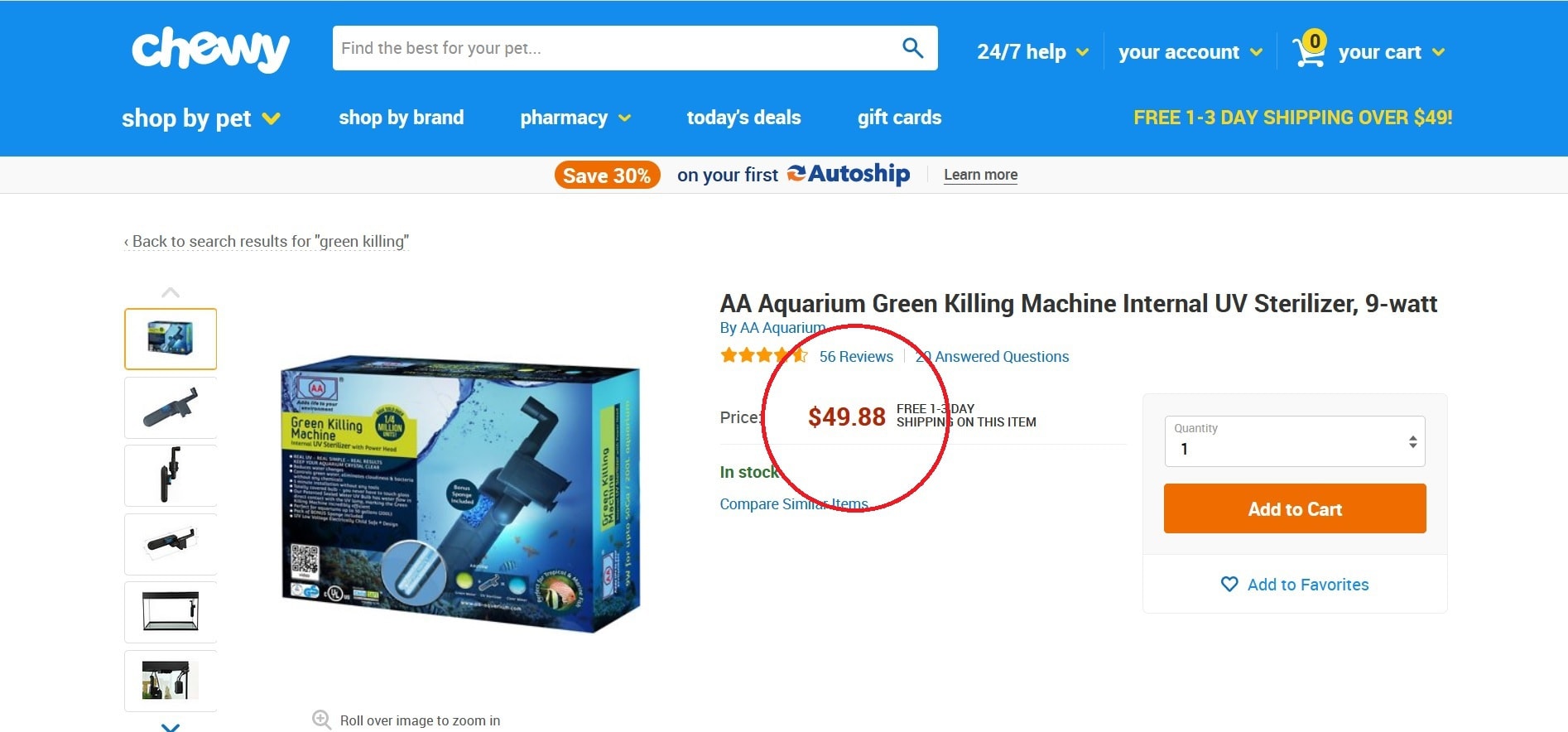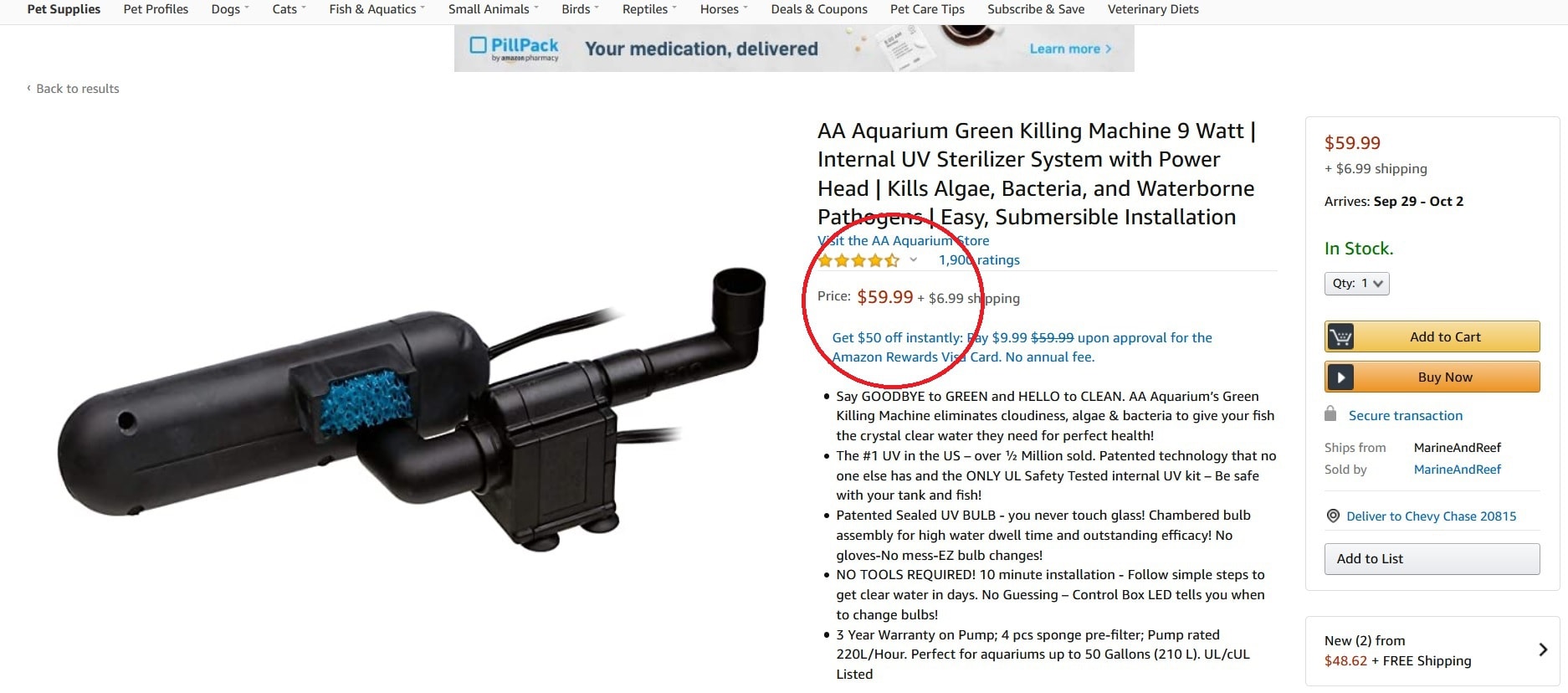 *Screenshots of comparison are just an example and may not be applicable at all times
The screenshots show the price comparison between one of the top aquarium UV sterilizers in the branch that would cost you less if brought from Chewy.
Chewy offers free shipping on orders over a certain price on all of their items too.
What I usually do when shopping for my fish equipment online is go to both Amazon and Chewy and start researching products.
I use Amazon to read through the hundreds of reviews on my product of choice and then compare prices with Chewy (and also read the reviews there).
I deduct the shipping costs and end up buying what's cheaper.
More often than not Chewy will be the winner and I would place my order with them.
All in all, the Chewy aquarium store is one of the best places to buy your fish supplies because of its ongoing discounts on hot-selling products.
What Chewy Offers Online:
Fish: No
Invertebrates: No
Aquatic Flora: No
Supplies: Yes; Even Amazon can't beat their prices
Visit Chewy
Aquabid.com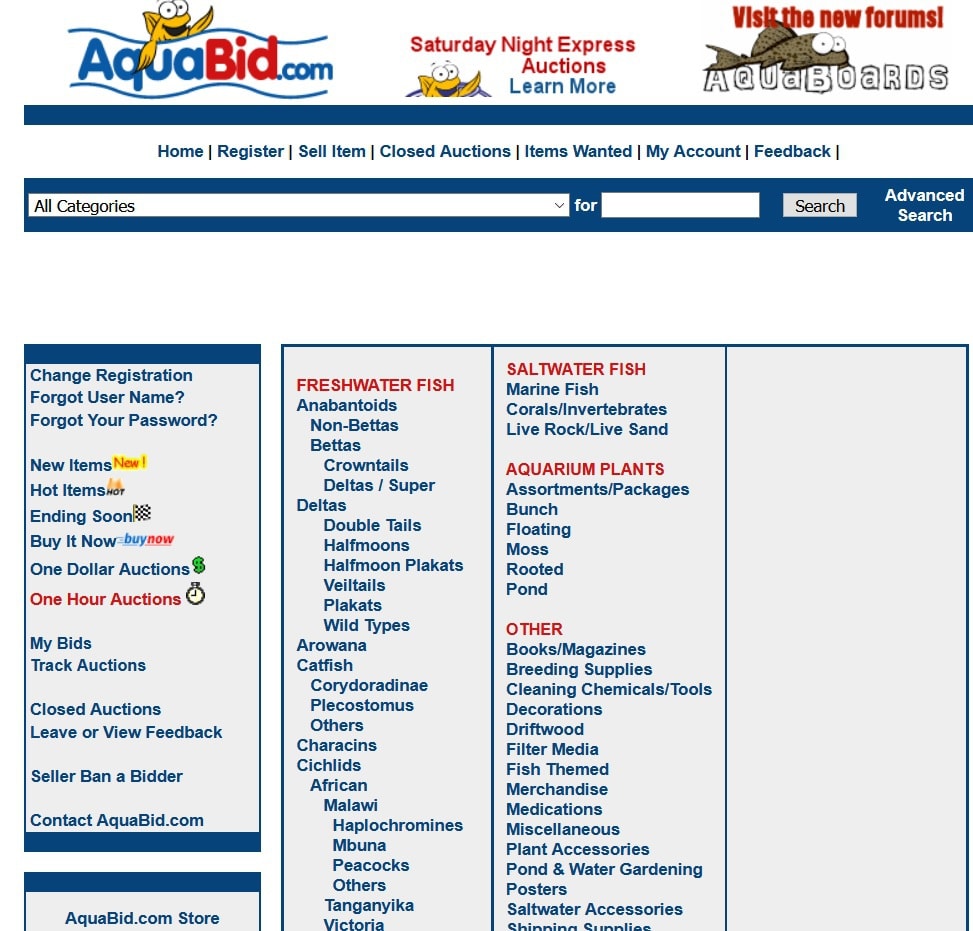 The Aquabid online store can be described as "the eBay for home aquariums".
It is a place where independent sellers and the occasional company are listing their aquarium livestock for sale online.
The sellers offer predominantly freshwater fish, and it's one of the best places where you could buy high-quality Betta fish, imported from Thailand.
However, at Aquabid you could find almost anything related to a freshwater aquarium.
If you dig hard enough you could get your hands on some rare killifish, and if you're lucky – a US native species such as the rainbow shiner.
This was the only place I managed to find my favorite Rubber Lipped Pleco for sale online.
Anyhow, if you're after a planted tank, grade A+ shrimp and live plants are a common find there and are definitely worth checking out.
I've also personally used Aquabid to also buy odd things such as live food for my fish and I've been very happy with my purchases.
Anyway, when shopping from independent fish vendors online it's important to check the feedback of each seller.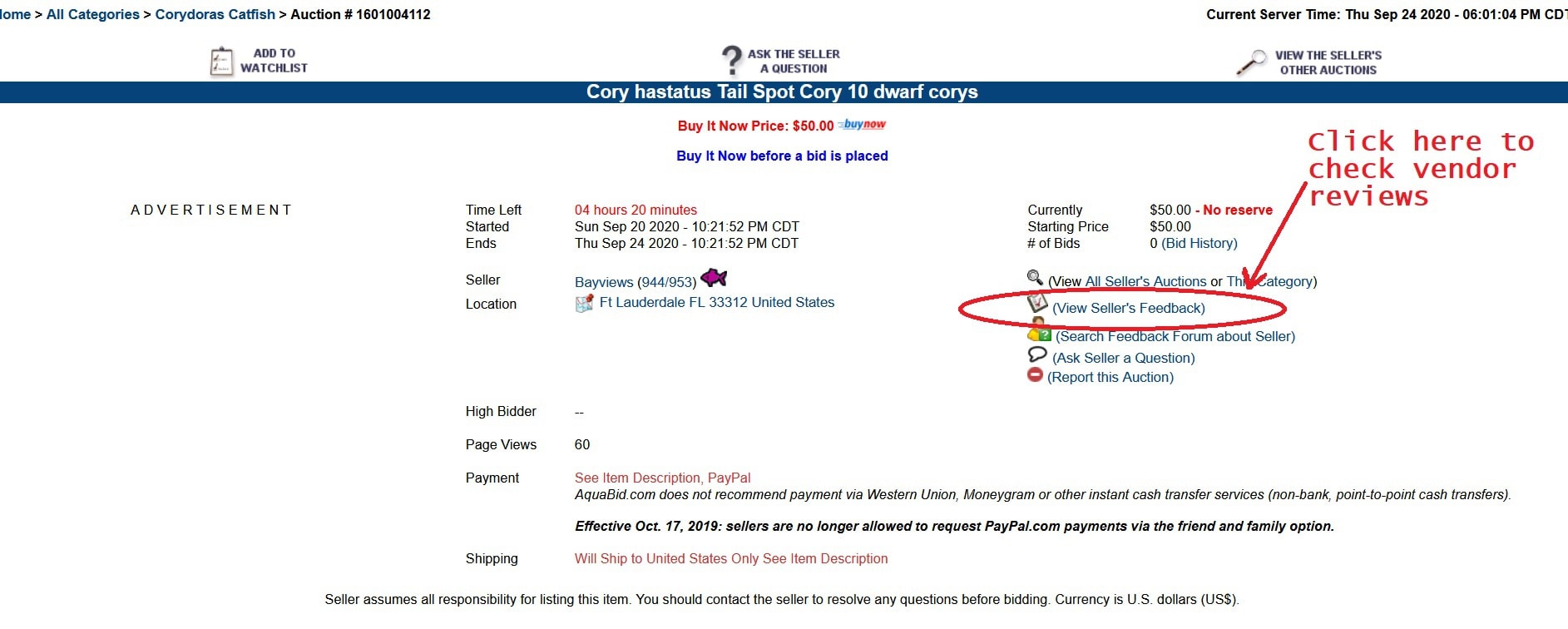 If you spot a seller with a 99% positive feedback score then their livestock and packaging are most likely exceptional.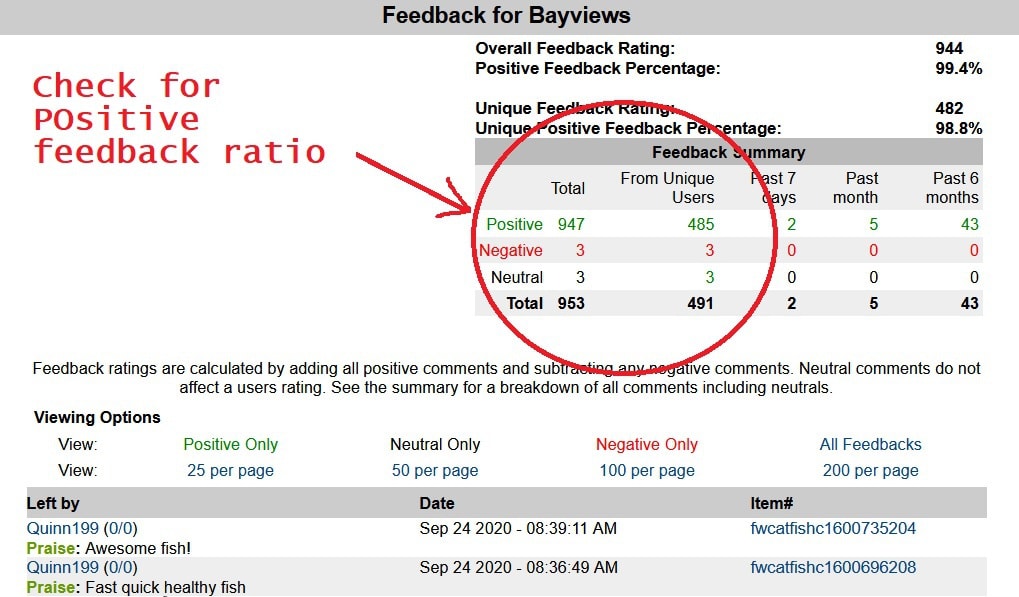 Also, don't let the Auction aspect of Aquabid put you off.
You could always click the "Buy Now" button and instantly claim your fish of choice.
Be sure to check the shipping prices or try to find a reputable seller who offers the delivery for free.
My personal advice is to always look for the "Photo" icon so that you could see what you're getting.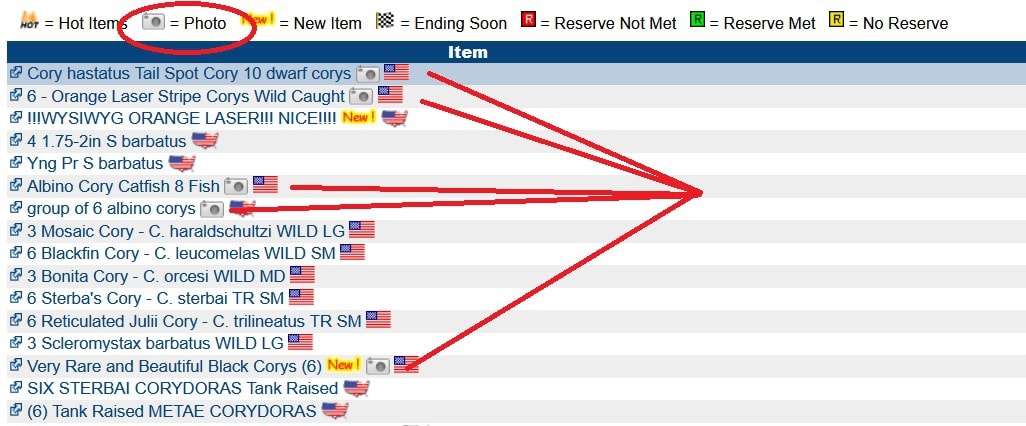 Anyway, you could also find aquarium equipment on Aquabid, though it will be geared mostly towards small fish tanks.
Aquarium supplies such as sponge filters and small water heaters will be easy to come by there.
However, if you need dedicated equipment for aquariums with large sizes such as canister filters, for example, then you'd have to look elsewhere (Amazon and Chewy are great for that).
What AquaBid Offers Online:
Fish: Yes – Freshwater and saltwater; A comprehensive selection of rare Betta species can be found + tons of other fish
Invertebrates: Yes – Freshwater shrimp, snails, crabs, etc.
Aquatic Flora: Yes – Mostly freshwater plants, rarely corals
Supplies: Yes; Mostly equipment for small tanks, but not a lot of choices
Visit AquaBid
Saltwaterfish.com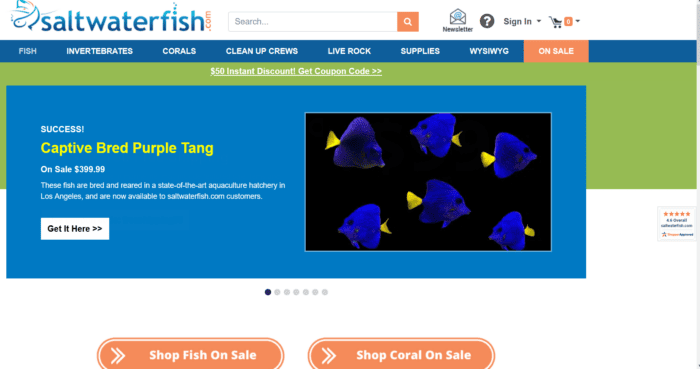 Salwaterfish.com is an online fish store based in Vero Beach, Florida that specialize in, obviously, livestock for marine aquariums.
They have been in the business for 20+ years and seemingly know the ins and outs of selling live fish online.
On their site, you could shop a variety of colorful salwater fish, invertebrates and even corals.
The prices are decent compared to today's market and they also offer a 15-day live fish guarantee.
Also, as every self-respecting online fish store, saltwaterfish.com has a great WYSIWYG section where you can browse around to find some treasures.
Judging by what I see from their WYSIWYG photos their fish (and corals) are well-kept and in very good condition overall.
Salwaterfish.com is a good alternative to LiveAquaria in case the latter are out of stock on something.
Finally, they offer free shipping on orders past a relatively low order value, which is amazing given how expensive saltwater fish can get.
I find this as a little treat on top of their overall great store.
My advice is to absolutely consider giving saltwaterfish.com a chance.
Let me know your experience with them in the comments.
What Saltwaterfish.com Offers Online:
Fish: Yes – Saltwater
Invertebrates: Yes – Saltwater ones, including anemones, clams, etc.
Aquatic Flora: Corals
Supplies: Yes, with a very extensive catalogue
Visit Saltwaterfish.com
Bulk Reef Supply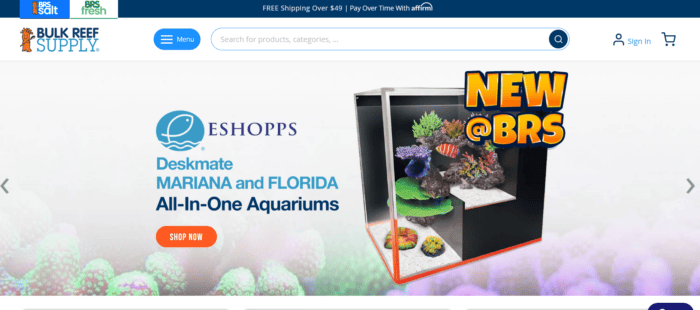 Bulk Reef Supply is an online store for aquarium supplies and is based in Golden Valley, Minnesota.
They have one of the largest inventories of reef-keeping supplies you could find online.
There, you can choose anything from the much-needed Reverse Osmosis aquarium system, through the essential for a reef tank powerheads, to sumps and more!
They specialize in selling premium aquarium equipment and are appealing to financially liberated hobbyists.
That being said, the prices at Bulk Reef Supply are close to and sometimes even match those you'd get on Amazon.com (when looking at premium equipment).
They have good educational videos over the BRS YouTube channel on pretty much anything they sell.
One thing I dislike about their online store is that they might be a little biased toward their own products.
At one point Bulk Reef Supply posted a review of the cheaper "black box" LED lights that many reefers on a budget turn to for growing corals.
They pointed out some technical negatives of these compared to the more expensive reef lights that they sell online which was okay and fair.
I do appreciate their effort in doing reviews of products they don't sell, but it did seem like the review itself was pushing their agenda a little too much.
They put a lot of emphasis on the technical disparities between an LED light that costs between 1/4th and 1/8th the price of the premium competitor.
However, the fact that the "black box" LED aquarium lights could actually maintain and grow reef corals, was mentioned just briefly and buried in the tech comparisons.
I've personally found plenty of photo evidence from multiple users online who use black box LED lighting and have GLOWING SPS and LPS reef tanks.
I think that's what the focus of the BRS comparison video should have been.
If you're curious, you could check the photo proof of coral growth that I've collected in my write-up on LED lights for reef tanks.
Anyway, despite my personal opinion on their marketing strategies, Bulk Reef Supply remains one of the best online stores for reef tank supplies.
You could even find coral foods within their impressive collection.
What Bulk Reef Supply Offers Online:
Fish: No
Invertebrates: No
Aquatic Flora: Yes – Reef coral packs, saltwater plants such as some macroalgae species, and bottled coralline algae
Supplies: Yes – Equipment needed for reef keeping, but mostly in the premium bracket
Visit Bulk Reef Supply
Is Purchasing Fish Online a Good Idea?
Buying aquarium fish online is usually done when you don't have access to certain species otherwise.
If you know the seller will take good care of the pet fish during shipping and you trust them then there's no reason not to shop for fish online.
There's an argument to be made that fish do get stressed while traveling, however, most trusted sellers will slightly sedate the fish during transportation.
This is done in a safe manner and reduces the stress of shipping for the fish significantly.
All in all, my opinion is that buying pet fish from reputable sellers on the internet is not unethical.
A Few Tips on Buying Live Fish Online
If you're like me, buying live animals online may come off as a process that has a lot of uncertainty at first. However, once you get the hang of it, you may end up preferring it over picking aquarium fish up from your local fish store.
Here are a few tips on what to look out for when buying fish online:
Always look for pictures of the fish that you're about to buy. Most places that sell live fish online will have a picture of the animal in question, but some won't. AquaBid is a place where not everyone provides a photo of the livestock, for example. Also, bear in mind that the photo likely isn't the actual representation of the fish, unless you're in the WYSIWYG section.
Look for WYSIWYG selections. WYSIWYG stands for "What You See Is What You Get" and it usually means that the fish in that selection are well-fed and likely healthy. Animals in the WYSIWYG section of an online fish store are either acclimated after the import or tank-bred and grown. This means that they are more likely to survive the shipping and will endure the transition to your new aquarium better.
Consider the weather forecast before ordering. Temperature fluctuations are one of the most common reasons for fish deaths in our aquariums. The same applies to shipping. If your local temperatures tend to fluctuate during the time of your order then it may not be the best time to order live fish online. Nonetheless, most reputable vendors like the ones I listed above will research the weather for you before shipment. These online stores will make sure the fish are shipped to the best of their abilities. This usually means that the package will include insulation and heat or cold packs, according to the forecast.
Subscribe to the email newsletter. Often, upon subscribing to the newsletter of the online retailer you'd get a good initial discount on your purchase.
So what fish do you consider getting? Use the comment section to share your plans or buyer experiences.
FAQs
What is the best online place to buy live fish?
Any fish store that keep their fish healthy and take extra care when shipping the animals is a good option for online shopping. There are many such good options and the ones listed in this article are cherry-picked to be exactly that.
Is it OK to order live fish online?
If the vendor takes care to properly pack fish, using mild sedatives, oxygenated solutions and heat or cold packs according to weather, then ordering fish online from them can be safe. That being said, fish do get stressed during transportation and casualties are never completely out of the question. The best fish stores in the branch would typically offer a Live Arrival Guarantee, which is to say, they will compensate you and replace any fish that happened to be Dead On Arrival (DOA). Online shopping helps aquarists get access to species that may not be available in their local area.
What is the best online place to buy fish that are quarantined?
Most of the reputable online fish stores quarantine their fish before selling them. However, the store needs to be an established one, because quarantine tanks are not cheap. Small online vendors likely don't quarantine their fish unless they explicitly specify that in the details of the deal.
What is the best online place to buy live plants for your aquarium?
The best online stores to get aquarium plants from are the ones that specialize in precisely that – aquatic plants. These stores likely have well-developed systems in place to take care of their plants properly. Such online stores also typically have the best shipping methods for delivering live plants safely. Some large fish stores also sell aquarium plants on the side, and not as their main product, but they are likely not the optimal choice for this.