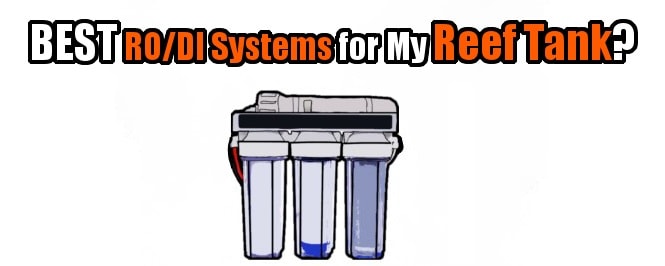 Having the saline water in your saltwater aquarium unpolluted is so important because it supports virtually all creatures in it.
I've found that the best way to ensure said water is well-suited to sustain its inhabitants is to get a reliable RO DI system for my reef tank.
In its natural form, our tap water is never pure due to contaminants and other dissolved compounds.
If no proper filtration is part of the water system, the contaminations can only continue to multiply and harm sensitive marine invertebrates.
RO DI – Reverse Osmosis, Deionization – filtration is designed to rid water of the dissolved pollutants.
Therefore, using an RO DI filter or other such means to purify the water that goes in your saltwater aquarium is, in my experience, non-negotiable.
To help you choose the right unit, I am going to have a look at some of the best RO DI systems you can get for your particular reef tank.
Let's get to it together.
The Top 8 RO DI Systems for a Pristine Reef Tank
| System Name: | GPD: | Price Bracket: |
| --- | --- | --- |
| 1. LiquaGen | 75 | $ |
| 2. AQUATICLIFE Twist-in 4-Stage | 75 | $ |
| 3. Aquatic Life Buddie | 50 – 100 | $ |
| 4. iSpring RCC7AK | 75 | $$ |
| 5. APEC RO 90 | 90 | $$ |
| 6. Koolermax AR 122 | 80 – 120 | $ |
| 7. Home Master HydroPerfection | 75 | $$$$ |
| 8. GeekPure | 70 to 90 | $ |
While all RO DI apparatuses are fundamentally the same, there are many differences in the models when it comes to efficiency or capacity.
Some of the products rely solely on Reverse Osmosis filtration and do not include a Deionization cartridge, but I've done enough research to make sure each of these was used by someone who successfully keeps corals in an aquarium.
For pristine reef tank water, try one of the 8 best RO DI system units: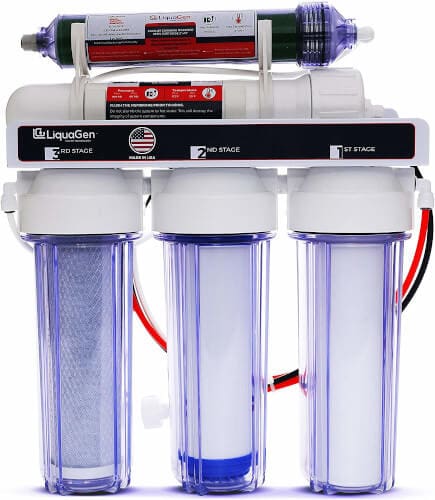 Click here to check pricing + see MORE photos of this product at Amazon.
The LiquaGen RO DI system for water filtration is relatively affordable yet able to keep marine fish and corals vibrant by processing the super clean water they need to thrive.
What I like the most about it, however, is the fact that it comes already set up and ready for installation.
This no-brainer installation should take 5 minutes.
LiquiGen's RO DI system is designed to only handle city water that's not particularly hard, and in some areas well water sources could contain up to 700 ppm of total dissolved solids. For this reason, it is best if you get your reef tank the LiquaGen RO DI filter unit if your tap water contains less than 350 ppm of TDS. LiquaGen guarantees outcoming water will contain 0 ppm of TDS if that requirement is met.
The 2-year warranty is another guarantee that the LiquaGen water filtration system is not going to disappoint you soon after you get it.
Along with that, there's lifetime customer support.
There should also be no air leaks or water leaks to bother you if you take the time to check the connections before use.
You also should flush the membrane for like 30 minutes the first time you start to use it or if it has been idle for some time.
Advantages:
It comes already set up, and so it is easy to install;
It is affordable;
Produces water that's completely purified (0 TDS);
2-year warranty and durable components;
Portable;
You can notify the manufacturer if you'll be using this with a storage tank and they will send you a shut-off and a check valve, free of charge.
Disadvantages:
This RO DI system will not produce 0 TDS water if the incoming source water contrains more than 350 TDS.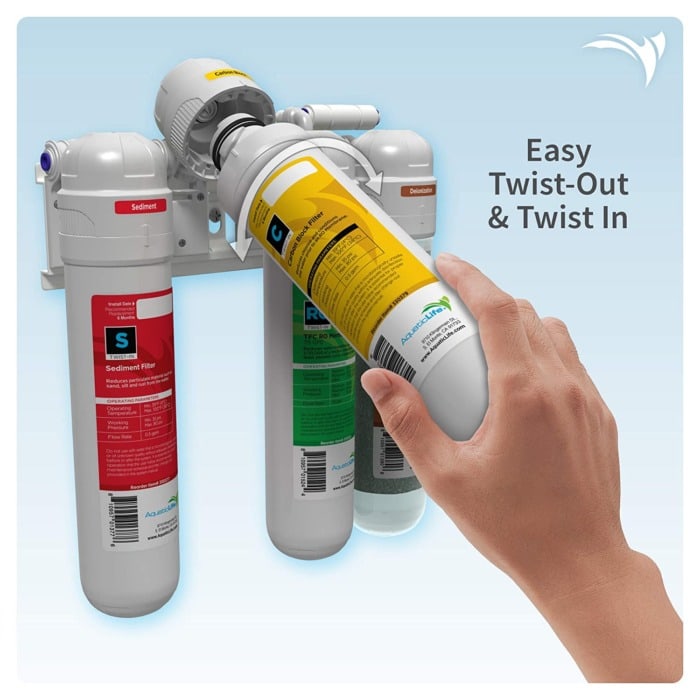 Click here to see the current price + more photos on Amazon.
What I really liked about the AQUATICLIFE Twist-in RO DI Water System is its convenient installation and cartridge-changing technology.
The installation process is not even comparable to other RO DI systems.
Changing the cartridges is also way easier and very time-saving, which, to me, removes some of the mental pressure of doing a water change.
If you're new to Reverse Osmosis filtration units, you'll likely find this entry very user-friendly.
Author's note: To avoid user errors, and for optimal water filtration, you'll need to flush the carbon dust, and the RO membrane's preservative at the start:
Screw the two flush caps that come in the pack where the RO membrane and the DI cartridge would usually go.
Run the system and wait until the Carbon dust is flushed and the water starts coming out clear.
After that remove the first flush cap and screw in the RO membrane.
Wait for another 30 gallons to pass through the system. This is done because each RO membrane contains a preservative that needs to be discarded.
Remove the second flush cap and install the DI cartridge.
Anyway, the AQUATICLIFE Twist-in RO DI Water System was, from what I could tell, fairly efficient in reducing TDS.
It's a rather affordable RO DI unit that could become your best friend if you're an aquarist with tap water that's on the hard end.
Anyhow, one slight inconvenience I would like to mention is that, for me, the AQUATICLIFE Twist-in RO DI Water System did not work at a speed of 75 GPD.
I calculated mine at around 60, which to some may be important, but I don't consider it a big deal.
Advantages:
It can't be beat for the money;
It is easy to install;
It is easy to change cartridges;
It is effective even for very hard water;
Reliable customer service.
Disadvantages:
Can be slower than advertised;
Some users prefer getting the booster pump to increase pressure and GPD rates.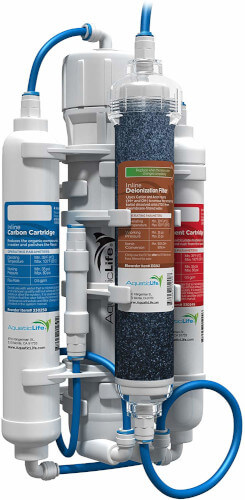 Click to compare pricing + see MORE photos of this product at:
If you are on a budget and are looking for a cheap reverse osmosis filter for your aquarium system, this one is for you:
Although rather cheap compared to others, the RO Buddie works as needed, and can produce zero TDS (Total Dissolved Solids) if the DI filter is in place.
It is a small, compact, and portable system with RO DI filter cartridges, that is not going to take much space.
Because it is small, its deionization cartridge is also small but it only begins to change color 150 gallons of RO water later.
The filtered water ratio to wastewater is roughly 1:3, which is not bad for a cheap unit for a saltwater reef aquarium like this one.
This inexpensive RO DI system may be slow, but it actually is an excellent choice if you keep a small nano reef tank.
If you deem needed, to boost its speed, try using a pressure pump.
It is also easy to use and the setup and installation take no time.
As with any RO/DI unit, to prevent tube leakages, ensure all the connections or fittings are tight.
Advantages:
It is affordable;
It is easy to use;
It is compact and a great choice for nano reef tanks;
It is as effective as any other;
Disadvantages:
It is quite slow;
The wastewater volume is relatively high but not uncommon (1:3);
Make sure to use the push-pull connectors to avoid any possibility of leaks.
4. iSpring RCC7AK — Its Alkaline Remineralization Filter is One of a Kind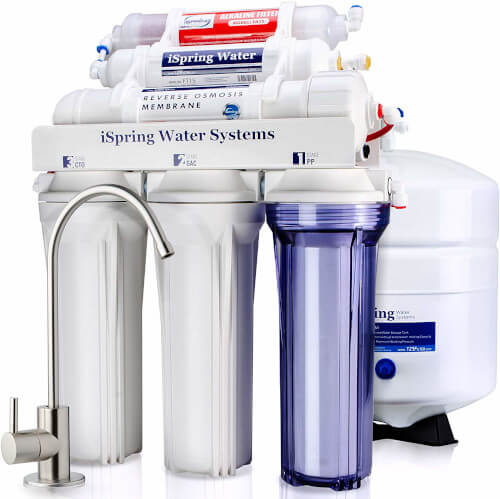 Click here to see the current price + more photos on Amazon.
The manufacturers of the iSpring system for Reverse Osmosis filtration have gone out of their way to ensure the installation process is virtually a walk in the park.
Apart from the usual instructions manual, they also link you to several online videos that give you a step-by-step guide.
I also like the fact that they are on standby with strong, tireless support to promptly respond to your queries as you do the installation.
They continue to keep in touch as long as you have this product.
The parts of this RO DI unit are easy to put together, and for instance, the tubes are all color-coded so you know where to insert which.
With everything in place, you can expect super clean, pure water for your reef tank, even though this RO DI system does not include a DI cartridge:
The unit does a fantastic job at filtering compounds that are harmful to marine invertebrates and corals because the media used in the filtration process is of quality grade and spread in 5 consecutive stages. For this reason, though it's not a complete RO DI system, the iSpring RCC7AK is one of the best water filtration units for a reef tank.
I have not used this particular unit myself, but I have a friend who does and manages a very successful SPS reef tank. He is absolutely confident in the efficiency of the iSpring and recently celebrated 3 years of no aquarium crashes.
As you may know, reef tank crashes are usually a consequence of accumulating contaminants in aquarium water and generally occur less than a year after the contamination has started building up.
Anyway, one unique feature with iSpring RCC7AK is the sixth unit called the Alkaline Remineralization filter, which enables the water to recover the essential minerals lost with the harmful compounds during the filtration.
For this reason, the produced filtered water is not only good for your fish and corals but also for you.
You'll like its natural taste, thanks to this sixth stage, without which the water would be quite acidic.
Advantages:
Easy to install, once you understand the instructions or the tutorials;
The water is super pure and undergoes 5 stages of RO filtration;
Life-time customer care support;
Has a remineralization stage, which only introduces safe minerals (even for reefs);
Includes a nickel faucet and a pressurized storage tank;
Durable components.
Disadvantages:
The filtration process can be slow at 75 GPD though this shouldn't bother you considering the high-quality water you finally get for your reef tank.
5. APEC RO-90 — Best for Large Reef Tanks that Suffer from High Nitrates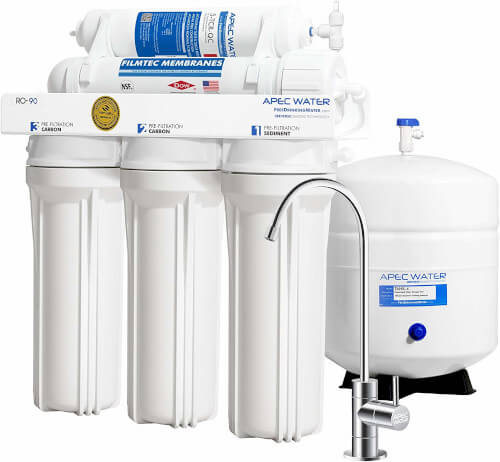 Click here to see the current price + more photos on Amazon.
APEC, the US-based manufacturer of this product, is a big brand that has been in the water filtration industry for more than two decades.
They are so confident in their product's abilities that they give you a 2-year warranty if you end up getting the APEC RO-90 or any of their RO systems for your saltwater aquarium.
APEC also provides excellent customer support.
Anyway, APEC RO-90 is a quiet reverse osmosis water system with no DI, and it is not going to add to the noise your reef tank may be producing otherwise.
Although this 5-stage unit maintains silence, it nevertheless achieves significant results, removing up to 99% of unhealthy water contaminants.
These include chlorine, arsenic, iron, lead, and other chemicals that might be harmful to the corals in your aquarium.
Though this system does not have a Deionization cartridge the 5-stage RO filtration is more than enough for producing reef-safe water.
This RO system is also particularly good at keeping high levels of nitrate in saltwater aquariums at bay.
During my product research, I found plenty of positive experiences from people using the RO-90 for their coral reef aquariums.
Each day your reef tank is assured of 90 gallons worth of clean water for changing if you keep the pressure at a minimum of 60 psi.
For this reason, I recommend getting the RO-90 for a large tank.
Always make sure the filters are not clogged to maintain the high water pressure necessary for fast operation.
You can do that by getting an inexpensive pressure gauge like this one, but there are many perfectly suitable options to choose from out there.
Usually, you'll need to replace the filters once a year upon active use (read if you also use it for drinking).
The whole thing is easy to set up so you can do it without calling the local plumber. I'd say two hours at most for the installation.
Advantages:
Very efficient at removing high nitrate content from tap water;
Produces ultra-clean water, safe for corals;
It comes with a 2-year warranty;
It is quiet;
Super capacity media that does not need to be changed often (once every year or more if you also use the unit for drinking water);
Comes with a storage tank;
APEC company provides life-time excellent customer care;
It is made to last long.
Disadvantages:
The membrane filter is at times hard to open, at least for some people.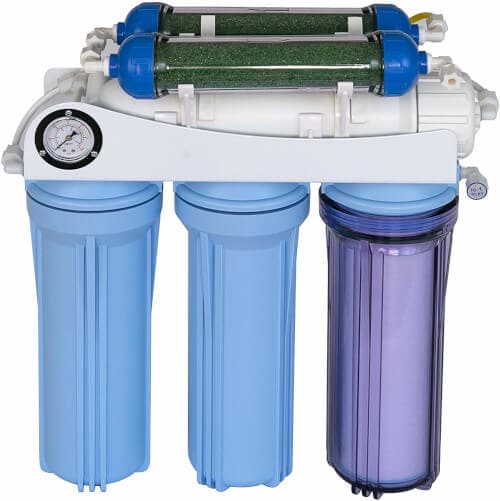 Click here to see the current price + more photos on Amazon.
So far, most of the filtration systems we have looked at are multipurpose, meaning they can as well be used to produce drinking water, etc.
The Koolermax AR-122, however, is expressly designed to be the ultimate water filtering system for saltwater aquarium water changes. It is capable of intense water filtration thanks to its efficient 6-stage system, 2 stages of which are DI cartridges.
This model has replaced the previous ones that had high wastewater.
With this one, the ratio is near-balanced.
Judging by this RO DI system's high water-producing capacity of 120 GPD it will suit large reef tanks well.
Its extra accessories that come in the package include tubing, auto shut-off valve, built-in filters, and pressure gauge that make it easy for you to monitor the in-line operating pressure.
If the pressure drops to 15 PSI, it is a warning that the filters are clogging and should be replaced as soon as possible.
It's important to remember that the input pressure should not exceed 80 PSI, in which case you should request a separate pressure regulator.
For efficiency, if the incoming pressure is less than 40 PSI the manufacturers also recommend supplying it with a booster pump.
The components are pre-assembled, and this eases the installation process.
This RO DI filter system is made to last long and also seems to be composed of high-quality components.
Moreover, the company provides after-sale technical support.
With all these, I think it is another best unit worth getting for pristine water quality in a reef tank.
Bear in mind that there have been complaints about the instruction manuals not being compressible enough and that it can confuse a beginner.
Advantages:
It's durable due to its compact, sturdy design;
It has a pressure gauge and other extras you don't usually get with many same-price models;
There are no leaking issues;
1-year warranty and US assembled;
Particularly good for that use Chloramine instead of Chlorine to disinfect tap water;
2 DI stages for completely water purity and polishing.
Disadvantages:
You can only use filters from the manufacturer (Koolermax) since they are different from the traditional ones. This limits your options when it's time for replacements;
The instructions manual is quite complicated for the beginners;
It works best with water sources that contain less than 300 TDS.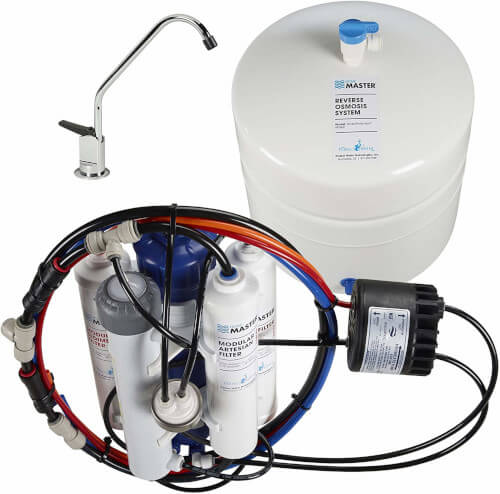 Click here to see the current price + more photos on Amazon.
This product may be the last on this list, but it is not the least in terms of efficiency.
In fact, in this list, the Home Master HydroPerfection is the best water purification system you can get for your reef tank despite not being a complete RO DI unit. It has 9 stages of water decontamination, which include filtration, purification, and even UltraViolet sterilization. It is especially effective in removing excess iron from water, which can be detrimental for sensitive coral reef aquariums.
That being said, this unit is also excellent if your tap water suffers from a high content of nitrates.
Anyway, wastewater is an issue with the traditional RO DI systems but not when it comes to the Home Master, which reduces wastewater by 90 percent compared to others.
This is achieved partly by the permeate pump that's included in the system.
The good thing is, the permeate pump doesn't require electricity to operate.
Furthermore, the flow rate is also faster, thanks to the fast flow RO kit and the larger tubings compared to the traditional ones.
This increases the volume of water flowing to the faucet by 50 percent, so you get more water at the end of the day.
In short, the ratio of filtered water versus wastewater is maintained at 1:1, which is rare when it comes to cheaper RO DI filtration units.
If you are a DIY enthusiast, installing this is another fun project for you.
It is designed to be installed by you – the reef tank owner – not the plumber. You need no special skills, which I highly appreciate in this otherwise sophisticated model.
To make the work more comfortable for you, the tubing is color-coded, the instructions are clear, and you get live support as you install it. "Live support" here means a customer care representative assigned to you patiently answers your questions as you do the installation.
Home Master doesn't have only a modern design but is also made of high-quality materials. It's mostly BPA-free plastic and the container tank is made from stainless steel.
The filters are also going to last really long before you finally replace them.
Replacing them has also been made easy for you since you need no tool for that.
In terms of efficiency, nothing is left to chance.
The filtration process undergoes through 9 stages to eliminate 98% of contaminants, including chlorine, sulfide, chloramines, and fluoride.
The water is not just purified but also treated for pathogens.
Should there be harmful microbes or viruses in the water you will be putting in your reef aquarium, Home Master is fitted with UV light technology to destroy them.
Unlike chlorine, this sterilization light is not going to affect the life of your fish and corals, plus it leaves no residue.
Unlike the traditional RO DI filter systems, Home Master has replaceable canisters.
All filter canisters gather residue over time, and when they are not changed, their efficiency is gradually weakened.
This RO unit is a bit on the expensive side, however, in my opinion, it is worth every penny and I've seen some very serious reef keepers employing it for water changes in their aquarium systems.
Advantages:
9 stages of water decontamination, which result in ultra-pure water that's safe for use in a reef aquarium with sensitive corals and invertebrates;
UV sterilizer also included;
It comes with a 5-year warranty, which is a surety that all will be well now and in the distant future;
Given the warranty, it is a fantastic investment in the long run;
It is reliable and made out of durable BPA-free plastic;
Comes with a pressurized water tank to store the purified water;
Excellent in removing iron and high nitrates;
Its efficiency is unmatched as it keeps 1:1 purified to wastewater;
Durability usually exceeds the warranty;
You can even replace the canisters.
Disadvantages:
It can be noisy;
Relatively pricey.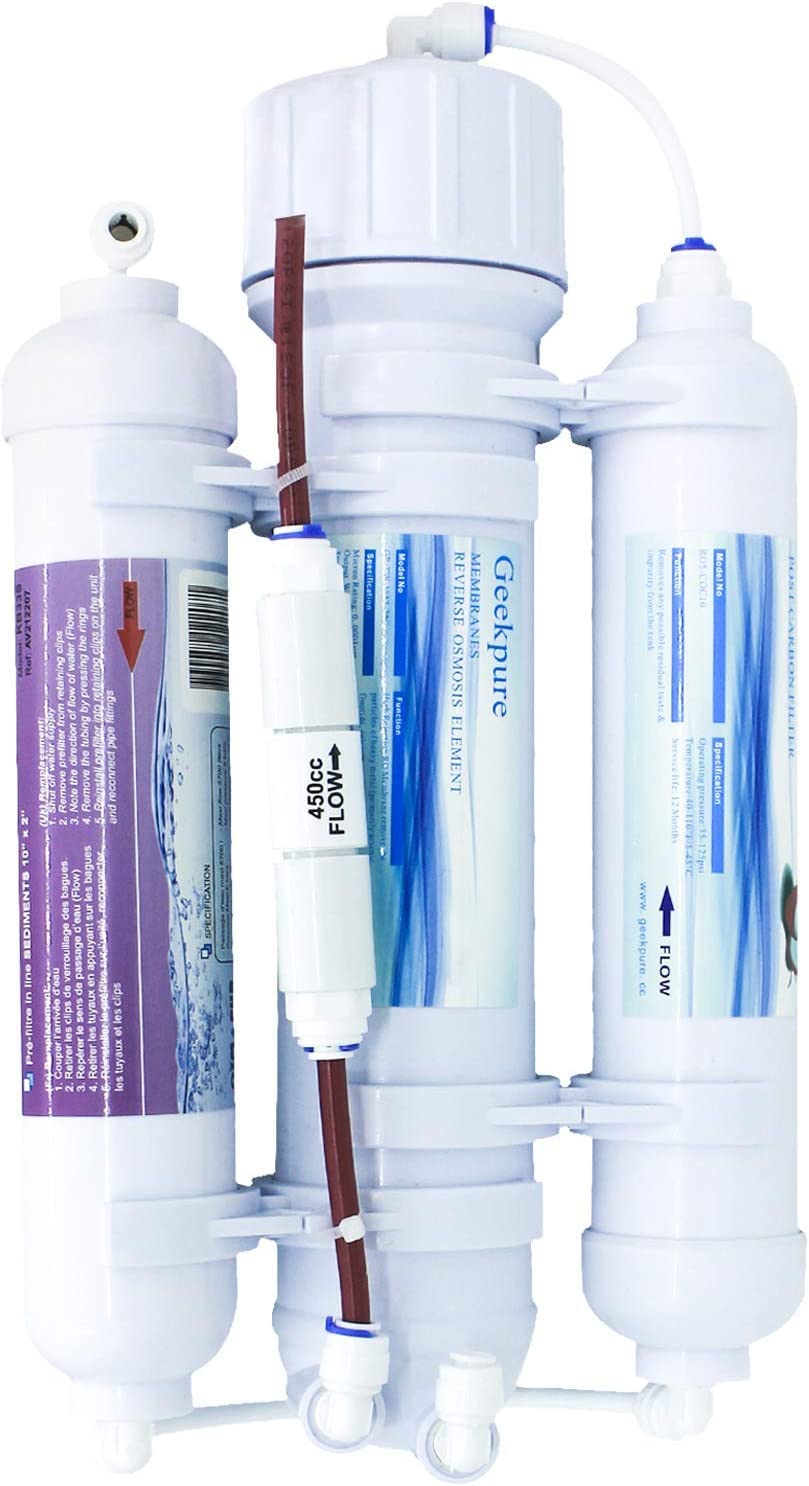 Click here to check pricing + see MORE photos of this product at Amazon.
Yes, you did not read that wrong, the GeekPure RO/DI system is portable.
This is both its blessing and curse.
On one side, this RO/DI system is even more budget friendly than the Aquatic Life RO Buddie.
That's because it only comes with the essential equipment.
This is ideal if you're trying to keep your reef tank within a budget while also providing good living conditions for your pet fish.
On top of that the characteristics of the GeekPure RO/DI system got me impressed for the price.
On paper it's supposed to work twice as fast as the Aquatic Life RO Buddie.
GeekPure's system has 100 GDP, compared to the 50 GDP of the RO Buddie.
However, during my testing I saw maybe between 40 and 50% increase of the working speed.
The end product water was, as advertised, very low on TDS, and very much within what I'd consider the acceptable range for reef aquariums (single digits).
There was also a bit more waste water than I'd like to see with my RO/DI systems but for this price range, I'm okay with that.
If you'd like you can also check out GeekPure's 4-stage version of their portable RO/DI system. The 4-stage one is still the most affordable product on this list.
Anyway, I should mention what I did not like about the GeekPure.
The installation was breeze up to a point.
That point was the moment I realized that precisely because this RO/DI system was meant to be portable it does not come with a faucet valve.
It took me some time to find the right one, and it was not without consultations from people in the hardware stores I visited.
If you don't consider yourself a handy person or someone with at least a speck of knowledge in plumbing, I'm afraid this may not be the right RO/DI system for you.
However, if you know your stuff and are frugal person this is probably the best RO/DI system for you and your new reef tank.
Advantages:
Portable
Super inexpensive
Really good filters for the money; can fight very hard water
Works relatively fast (although that seems like anecdotal experience)
Disadvantages:
Does not come with a connection valve, but otherwise easy installation
The flushing system is not great which may decrease the lifespan of the filters
Waste water is more than I'd like to admit
A-to-Z beginner guide on RO DI systems and their role in a saltwater aquarium
I'd like to show you a checklist that should guide you as you determine the right RO DI filter.
The products we are looking at are gauged against these guidelines.
You need to take a closer look since sometimes companies are flooding the market with ineffective aquarium products.
Here's a complete guide on RO DI filter systems for coral reef tanks:
1. Know that the quality of filtration is not completely tied to produced TDS levels
There's this myth floating online that you need to strive for water that contains no more than 0 TDS (total dissolved solids) for your reef aquarium.
TDS meters measure exactly that – the total amount of dissolved solids, but they don't really tell you what stays behind that number.
Water that contains 10 ppm (parts per million) of dissolved magnesium could be beneficial to a reef tank where 10 ppm of copper could outright crash it.
What's important to remember here is that coral reef aquariums are negatively impacted by the presence of heavy metals such as arsenic, copper, and lead in the water.
Other undesirable compounds that may be harmful for your aquarium would be free chlorine and chloramine which are being used to disinfect tap water from bacteria.
Tap water may also contain high nitrates (up to 44 ppm in the US) and traces of ammonia that can be both harmful and induce algae blooms in a saltwater aquarium.
A good RO or RO/DI unit with quality sediment and carbon filters in place can produce reef-safe water, that does not necessarily contain less than 1 ppm of TDS. What's important is that you do purify your tap water source through one such system, and the outcome can still be water that contains up to 30 TDS yet qualifies as safe for use in reef aquariums.
Make sure you don't get a cheaply-made TDS meter, as these have a history of being wildly inaccurate.
A reliable one, that I can recommend off the top of my head would be the HM DIgital COM-100.
It has been quite popular among reef keepers and I also am personally pleased with its performance.
I've selected the exact model of this TDS meter in this link to Amazon.com.
2. A Deionization stage is a plus but not a necessity
DI units are often called "polishing" within water filtration systems because they usually bring the TDS levels of water down to around 0.
An RO system will purify water up to 99% on its own, and the DI unit will capture the remaining 1% of the solids.
In their essence, DI units exchange charged ions with contaminants.
I did some digging and found that the ion removal worth an additional DI unit for a reef tank is the exchange of iron, copper, silica, and nitrate ions.
Evidently, however, a quality RO system will also remove these on its own.
For this and the reasons mentioned in the section above, some of the units I recommend in this article do not include a DI filter.
I did extensive research on the mechanisms they use and made sure to cherry-pick the ones with confirmed reports of people who use them to keep successful coral reef aquariums.
3. Look for efficiency and performance when it comes to GPD rates
Depending on the gallon capacity of your aquarium or its livestock population, you should go for the model that is going to be efficient in supplying the needed Gallons Per Day (GPD).
Each filtration stage should be efficient enough so that at the end of the process, you get the water quality your reef tank deserves.
Some models produce 1 gallon of filtered water for every 2 gallons of wastewater, while others with improved efficiency keep the ratio at 1:1.
To put things more into perspective, bear in mind that there are models that actually produce about 20 gallons of wastewater just for 1 gallon of filtered water.
However, the amount of clean water produced also depends on temperature and pressure among other factors; it's not just the quality of the RO DI system.
For the oriented towards a more sustainable lifestyle – you can still use the wastewater from your RO DI system in your garden, or to wash your car, and also to wash utensils.
4. Rely on brand reputation
There are those companies that have been in the water filtration industry for years, and their products stand out, more so for their efficiency and reliability.
They are also at the forefront when it comes to innovation, so they keep improving their brands to reflect the latest technology.
More often than not, it is preferable to buy from such well-known, time-tested brands than from some little-known newcomer.
5. Seek ease of installation if you're new to this
An RO DI system unit is not that complicated but you will need a little learning if you are a novice who does the installation for the very first time.
However, things can be a lot easier if the particular RO DI system you bought is easy to install.
The more simple and clear the installation instructions are, the better for you.
6. Select one that's easy to maintain
Once in a while, you have to disintegrate your unit to clean the membrane, canister, etc.
If time is not always on your side, then you need a model you can quickly disassemble during the maintenance and easily assemble thereafter.
7. Check for accompanying kits
Some models come with all the necessary extra components while others do not include all the equipment in the package.
If you already have these accessories, you may get the RO DI models without them.
But if you need all the accessories, then you have to purchase the models that have everything included in the package.
For instance, some brands come with a tank that collects and stores the purified water and a pressure pump that you can use to boost the water filtration process if need be.
A faucet adapter is another addition you can benefit from, that not every model comes with.
8. Customer support is important
There are those after-sale services that make buying from certain companies irresistible.
First, there is lifetime customer support, meaning should you need any technical assistance, they are willing and able to offer it.
It could be a replacement you need when a component is worn out or a repair in case of damage. They promptly provide it, freely or at a fee.
Some brands also have warranties stretching as far as 5 years.
9. Read customer feedback
While not all customers give accurate feedback, it pays to listen to what they say about a particular product you are having your eyes on.
Product reviews are part of online shopping and you can't afford to ignore what everyone is saying about a product.
Take time to research, as you do now. If you've come this far in this guide then it's safe to say you did your due diligence.
Again, bear in mind some so-called "verified buyers" give reviews in bad faith to achieve certain individual goals.
Some are paid by rival companies to tarnish the brand of another company.
These are the challenges you have to contend with, so do not over-rely on what one particular buyer has claimed
Again, a review could be misleading perhaps because the reviewer himself does not fully understand the product, so his views are limited to his well-meaning but wrong perceptions.
Can You Get Away With Buying A Cheap RO DI System?
Undoubtedly at some point, you've wished to get your hands on the best aquarium product the market has to offer, but then you simply couldn't due to financial constraints at that moment.
You hence had to check if you could get cheaper options.
Fortunately, there are always less expensive options even when it comes to an RO DI system.
Here's whether getting a cheap reverse osmosis filter for your aquarium would make sense for you:
For an RO DI filtration unit to be cheap, it usually means that it lacks some features.
For instance, it could be that the materials, used in making it, are not durable enough. A cheap RO DI system could also be limited in performance or efficiency.
So while you can get away with getting an inexpensive reverse osmosis filter unit for your aquarium, it may come with certain inconveniences compared to the more costly ones.
Therefore, if you have the money, you should put efficiency ahead of what you think is affordable.
I do have to stress, however, that both the cheap and the expensive RO DI systems usually perform their primary functions well.
How to Set Up One?
Once you have understood the instructions, setting up an RO DI system becomes fun that lasts minutes.
From my experience, it's never as complicated as it first looks.
To correctly set up a reverse osmosis system for your reef tank, you first need to make sure that every necessary accessory is available.
Take your time to read the directions and remember that each model has something unique about it.
Once you have unpacked the RO DI unit, do the necessary assembling, following the directions provided via the manual instructions, or an online video.
This is how to set up a reverse osmosis system for a reef aquarium:
Attach the source water tubing to the raw/source water line. This tube is red in most cases but not always. It introduces the sourced water to the RO system. Source/raw water should be cold since hot water can permanently damage the permeable membrane responsible for filtering.
That done, attach one end of the blue tubing to the RO systems and the other to the DI canisters. This one transports the purified water to the DI chamber for deionization if there is one.
Attach another blue tubing from the DI canister to the reef tank or a storage tank. This carries the final water that has undergone the RO and DI processes.
You then attach the black tubing to the fitting from the membrane chamber. The black tube is usually the one that takes the wastewater to the drain.
After that let in the source water and run it through the system for 30 minutes or so to flush out any dirt or chemicals (unless stated otherwise in the instructions). This is the time to check if there are any leaks on the connection joints.
Once everything is set up, you can now start to harvest your RO water for the reef aquarium.
In a nutshell, those are usually the steps you need to take regardless of which model you have.
FAQs
What is the best one for a reef tank?
The best RO DI system for your reef tank would be the one that filters the water down to negligible amounts of total dissolved solids (TDS) and does it timely. The former requires multiple stages of filtration and the latter requires a good overall build of the system.
Is RO water good enough on its own for a reef tank?
RO water is basically water that's stripped of impurities but that includes minerals. Minerals in the water are crucial for saltwater fish and corals because that's where these organisms get them from. After you filter your tap water through a RO system you'd want to remineralize it which is typically done by adding a marine salt mix to it.
Is DI or RO water better for a reef aquarium?
Both RO and DI cartridges filter water great but extract impurities from it through different methods. Since for your reef tank you'd want a perfectly clean water the optimal solution would be to filter it through both RO and DI filters. Running water through both types of filters is like a safety measure, although high-quality RO filters can do a fantastic job on their own. Most of the best water filtering systems for reef tanks in the branch have both RO and DI filter cartridges.
Aren't RO and DI water essentially the same thing?
Both RO and DI water has been purified but in a different way. RO does the heavy lifting, removing 99% of the impurities, whereas DI works refines the result, getting rid of anything that the RO filter might have missed. That's why DI filters are often called "polishing" when it comes to water purification.
What is the best one for a freshwater aquarium?
Freshwater fish are almost as sensitive to water impurities as marine fish, if not even more. For this reason, if you resort to a RO DI system for your freshwater aquarium you should pick one with at least 3 stages of filtration. Also, be sure to remineralize the purified water with a mineral mix designed specifically for freshwater fish (not marine salt).
My Conclusion
You are now capable of deciding on the right RO DI unit for your particular setup.
The major takeaway here is that for reef tank water to achieve its potential, it is best that you purify it by an RO DI system that is reliable.
Spending more money on a high-quality, long-lasting one is also a good investment in the long run.
Leave me a comment to share your thoughts or experiences.