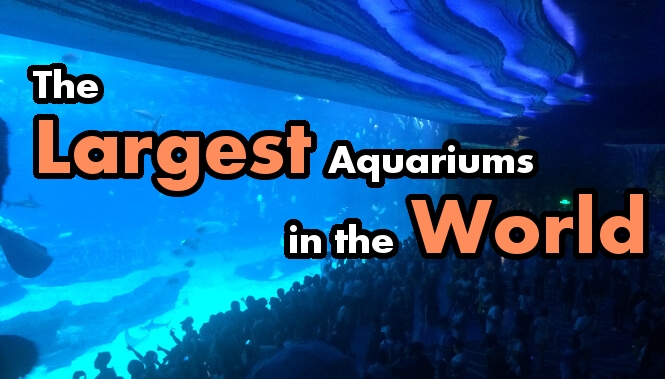 If you've personally seen a 300-gallon fish tank up close you know how tiny it makes you feel. However, the dimensions of commercially available fish tanks are nothing compared to the largest public aquariums found around the world.
Tank size does matter in these facilities, as some of them accommodate whale sharks, gigantic fish that may easily reach up to 30 feet in length (9 meters).
Each in the top 13 of the biggest aquariums in the world holds no less than 2,000,000+ gallons or of water, which is 7.5 million liters. Some of them are home to thousands of animal species.
What is the LARGEST Aquarium in the World?
Each of the aquariums listed below is made to keep an enormous number of animal species. For this reason, the water capacity of most of their tanks is in the millions of gallons.
Take a look at the largest aquariums in the world ranked by their gallon capacity:
13. (Royal) Burgers' Zoo Burgers' Ocean – 2.1 Million Gallons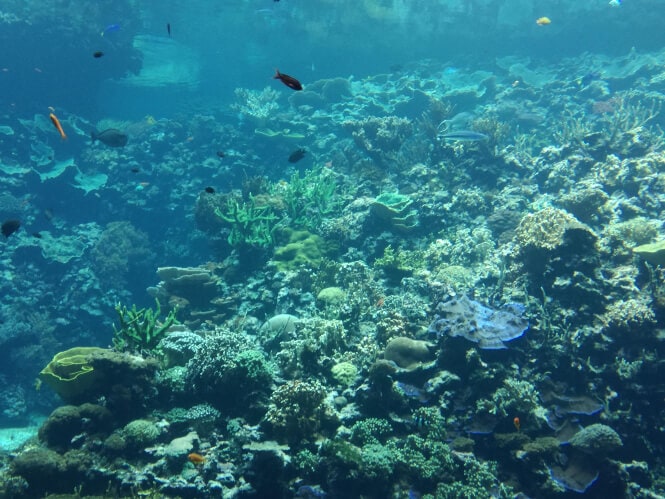 By GTAinreallife
Burgers' Ocean is a public aquarium that's part of the (Royal) Burgers' Zoo, located in Arnhem, Netherlands.
The Burgers' Ocean aquarium houses live corals and tropical saltwater fish, which makes it a fine destination for reef keeping enthusiasts.
In fact, it is the second-largest coral reef aquarium, right after Australia's Reef HQ.
12. The National Aquarium in Baltimore – 2.2 Million Gallons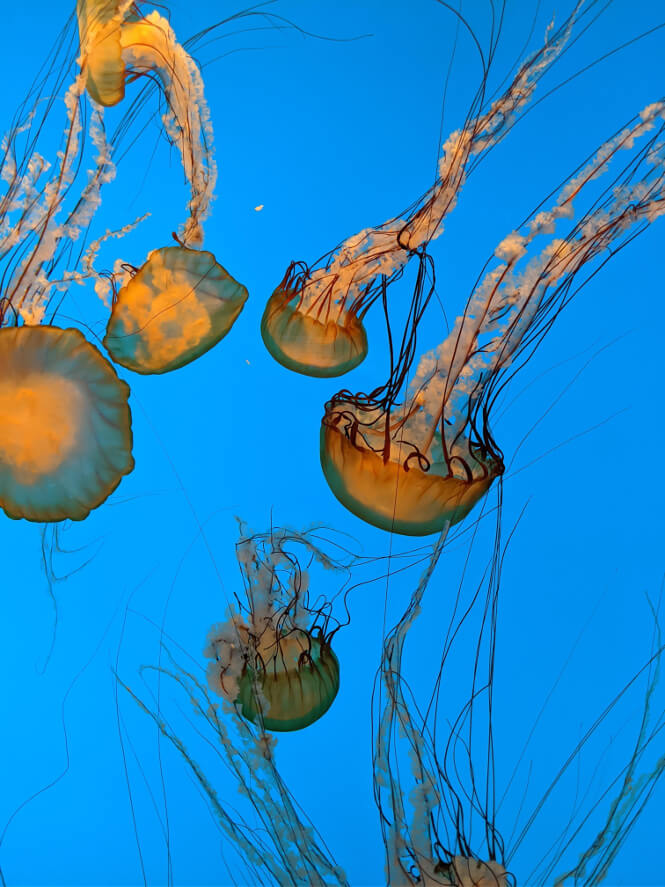 By bparkervaughan
The National Aquarium in Baltimore, Maryland holds an astonishing total water volume of 2,200,000 US gallons.
Its biggest fish tank is half that – nearly 1.3 million gallons.
This beautifully designed facility is popular for its dolphin and stunning-looking jellyfish exhibitions.
The National Baltimore Aquarium houses more than 750 animal species, however, it is nowhere near the largest one in the United States of America.
Keep reading for that one.
11. Okinawa Churaumi Aquarium – 2.64 MIllion Gallons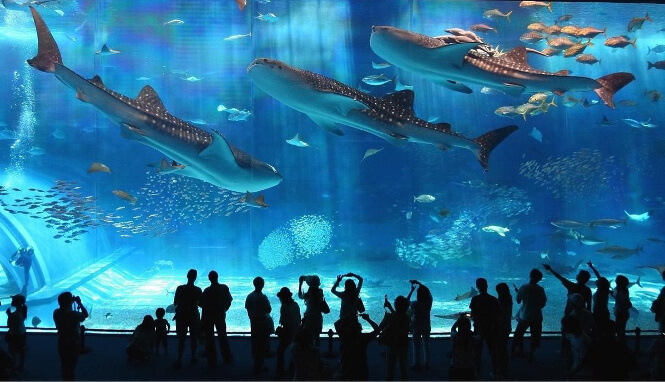 By ne1butu
The Okinawa Churaumi Aquarium is officially the largest public aquarium in Japan with its 2,640,000 gallons of total water volume.
Japan has more than 17 major aquariums but the Okinawa Churaumi one is arguably the most impressive one.
It provides a home to both whale sharks and manta Rays in its main fish tank.
If you happen to visit it, make sure to also check out the floor that displays deep-sea creatures.
10. The Dubai Aquarium and Underwater Zoo – 2.64 Million Gallons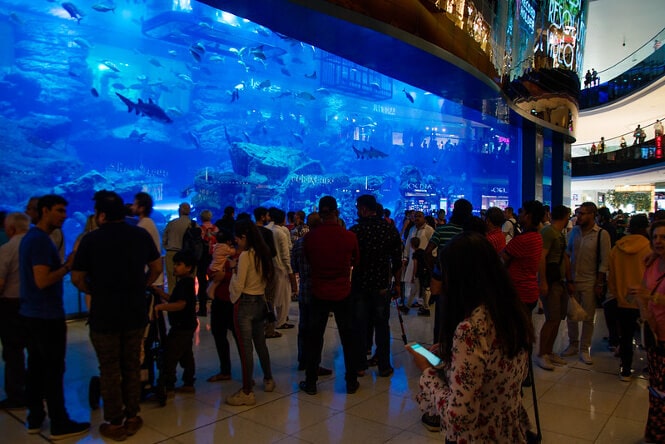 By Mitch Altman
Dubai's Aquarium and Underwater Zoo is honestly amazing with its unique architecture and 2.64 million gallons of water.
What makes it so entertaining are the numerous types of tours that you could enjoy during a visitation.
You could literally take a glass boat ride over the aquarium's surface.
You could also arrange an unforgettable aquarium-themed birthday party for your kids.
If you're a fan of luxury and fish that are exotic and cool-looking then Dubai's Underwater Zoo is the place for you to visit.
9. The Atlantic Sea Park – 4 Million Gallons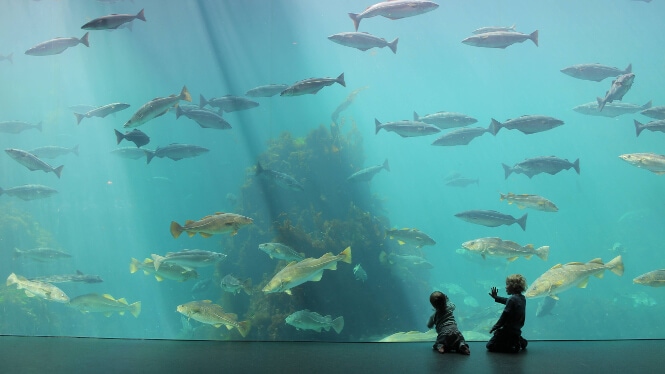 The Atlantic Sea Park of Norway is one of the biggest saltwater public aquariums in all of Scandinavia.
It is located in the city of Ålesund and it holds about 4,000,000 US gallons of seawater.
Unsurprisingly this public aquarium is displaying animal species from around the Atlantic Ocean, mainly from the coasts of Norway.
It should also be noted that Norway's Atlantic Sea Park is home to one of the largest seal exhibits in the world.
8. uShaka Marine World – 4.6 Million Gallons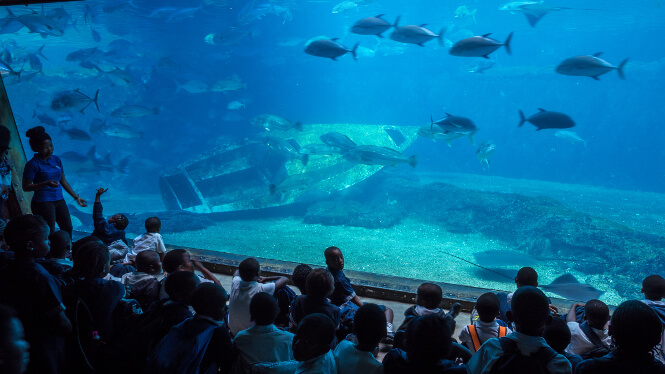 By South African Tourism
The uShaka Marine World theme park is among the top 10 largest aquariums in the world with a staggering 4,600,000 gallons of total water volume.
You can visit this enormous public aquarium in Durban, KwaZulu-Natal, South Africa.
The park itself has 8 entertainment sectors spread in nearly 40 acres of land.
The uShaka marine aquarium is the home of more than 10,000 saltwater animal species.
7. Shedd Aquarium – 5 Million Gallons
By Sage Ross
The Shedd Aquarium in Chicago, Illinois is almost 100 years old and is the 7th largest public aquarium in the world.
It has a total water volume of the colossal 5,000,000 US gallons.
It houses a ton of exotic sea and freshwater animals such as lungfish, beluga whales, Lake Sturgeons (essentially a dinosaur fish!), and alligators.
The whole facility has also been inspired by classical Greek architecture, which may be another good reason to visit it (aside from the cool fish).
6. The Seas with Nemo & Friends – 5.7 Million Gallons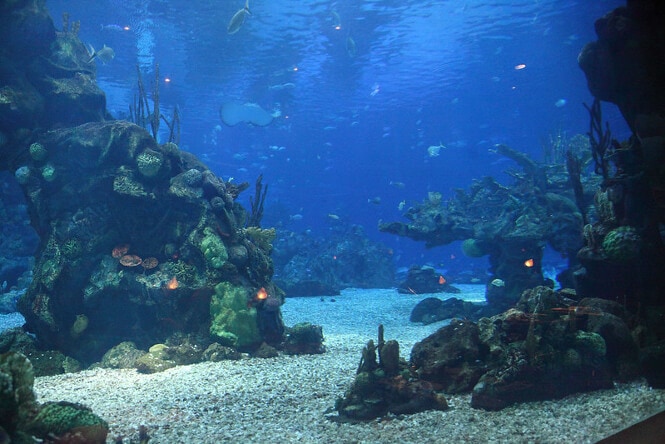 By Steven Miller
The creatively named "The Seas with Nemo & Friends" is a public aquarium that was previously known as The Living Seas, a world record holder until 2005.
This facility used to hold the record for the world's largest public saltwater aquarium, right until the Georgia Aquarium opened doors and seized that title.
The Seas with Nemo & Friends has a total tank volume of 5,700,000 US Gallons of seawater, which equals 22,000 cubic meters.
The aquarium itself is part of a Ride event at the Epcot, an amusement theme park under the operation of Walt Disney World Resort located in Florida.
With its tank size of 5.7 gallons, it holds the 6th place in the rankings of the world's biggest aquariums.
5. Moscow Oceanarium – 6.6 Million Gallons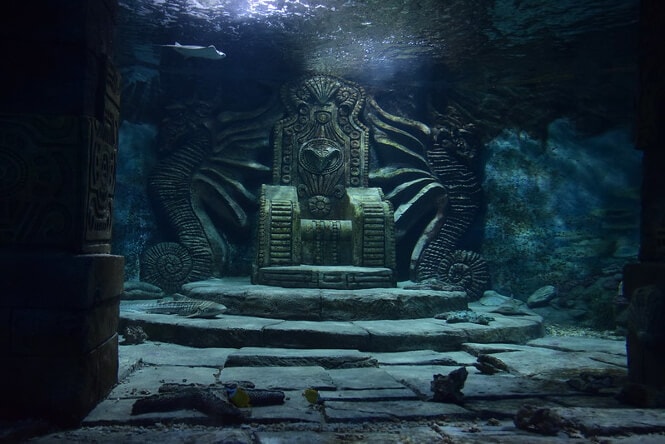 By Raita Futo
The gigantic Moscow Oceanarium is, evidently, located in Moscow, Russia.
It holds no less than 6.6 million gallons of total aquarium water, which makes it the 5th largest public aquarium worldwide.
It is relatively unpopular, given its total tank size and dimensions, but judging from the photos it is definitely worth visiting.
4. The Georgia Aquarium – 10 Million gallons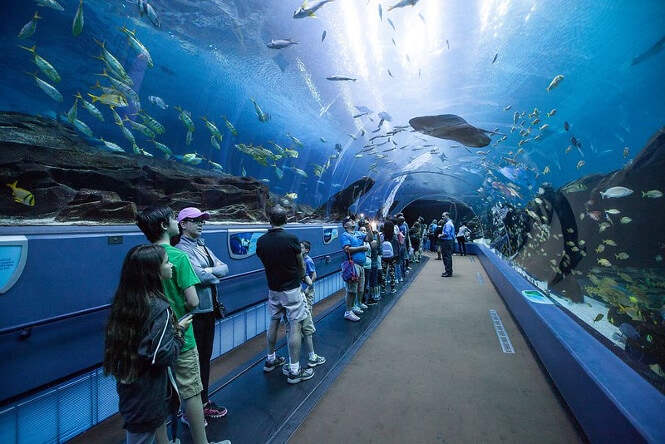 By Kelly Browning
The giant Georgia Aquarium is situated in Atlanta, Georgia U.S. and holds no less than 10 million gallons of both fresh and sea water, which equals nearly 37,855,000 liters. The Georgia Aquarium is, therefore, the largest aquarium in the United States. The facility also held the title of the biggest public aquarium in the word for 7 years, until in 2012 it got surpassed by a bigger Asian aquarium.
Georgia's public aquarium proudly welcomes more than 2.5 million visitors per year.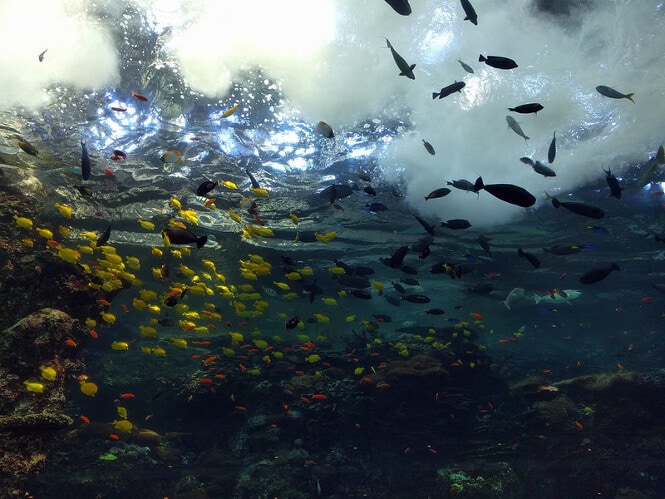 By amanderson2
The facility even plans to do an expansion with a separate exhibit for sharks that would add another 1 million gallons of water to its total tank capacity of 10 million gallons.
This enormous public aquarium is not, however, foolproof, as in 2007 two whale sharks died within its borders.
It's worth noting that the sharks were imported from Taiwan, and were to be eaten if not purchased by the Georgia Aquarium.
The facility is now home of 4 healthy whale sharks named Yushan, Alice, Taroko, and Trixie.
3. The Oceanographic Oceanarium – 11 Million Gallons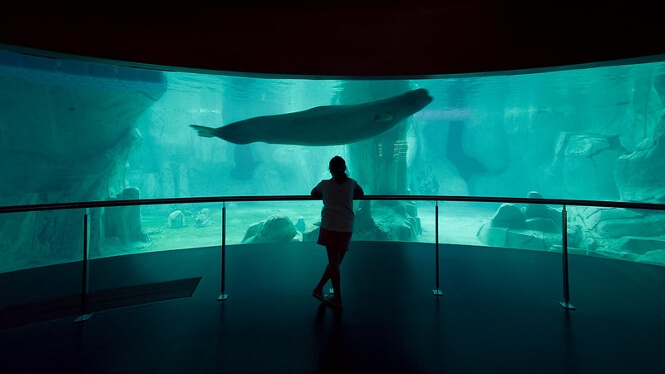 By Hernán Piñera
The Oceanographic also known as L'Oceanogràfic is the biggest large-scale aquarium in Europe. It is located in Valencia, Spain and the total water volume of its tanks is 11,000,000 US gallons or 42 million liters.
This European oceanarium has a separate tank of 1,800,000 US gallons that's specially designed to harbor large marine animals such as rays and sharks.
There's also another larger dolphinarium tank with a huge water volume of 6.9 million gallons.
Nevertheless, the Oceanographic is home to no less than 45,000 animals.
The facility also has impressive architecture, unique to water parks, as to be expected of the 3rd largest aquarium worldwide.
2. South East Asia (S.E.A.) Aquarium – 12 Million Gallons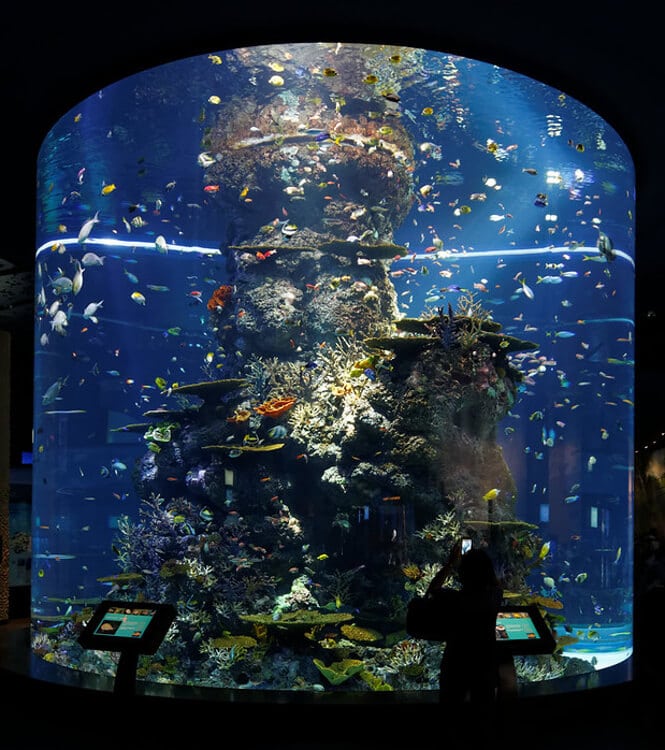 By Kimon Berlin
The S.E.A. Aquarium broke the world record for the biggest aquarium in 2012 and held the title until the next entry opened doors in 2014.
The S.E.A. Aquarium can be found in Sentosa Island, which is part of Singapore.
The facility holds the spectacular 12 MILLION gallons (45,000,000 liters) of aquarium water and is home to more than 100,000 aquatic animals.
The S.E.A. has been unsurpassed in its impressive collection of manta rays.
This aquarium houses the world's largest number of these mysterious creatures and is one of the 4 public aquariums worldwide that have manta rays.
The S.E.A. Aquarium is the second largest aquarium in Asia.
1. Chimelong Ocean Kingdom – 12.9 Million Gallons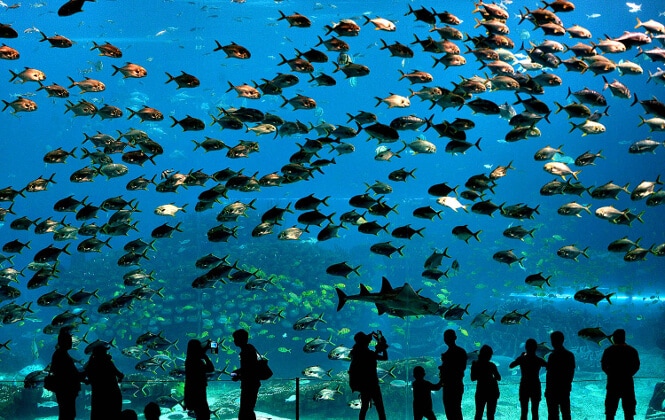 By worldbeyondyourown
The Chimelong Ocean Kingdom holds the record of the largest public aquarium in the world with a total water volume of 12,900,000 gallons. This is almost 1 million gallons of water more than the total water volume of the world's second-biggest aquarium and both are located in Asia. The Chimelong aquarium is situated in the city of Zhuhai, southern Guangdong province, China.
The facility is divided into 8 enormous zones with each providing an individual ocean-themed experience.
The themed ocean areas are as follows:
Ocean Avenue
Dolphin Cove
Amazing Amazon
Ocean Beauty
The Polar Horizon
The Hero Island
Mount Walrus
Hengqin Ocean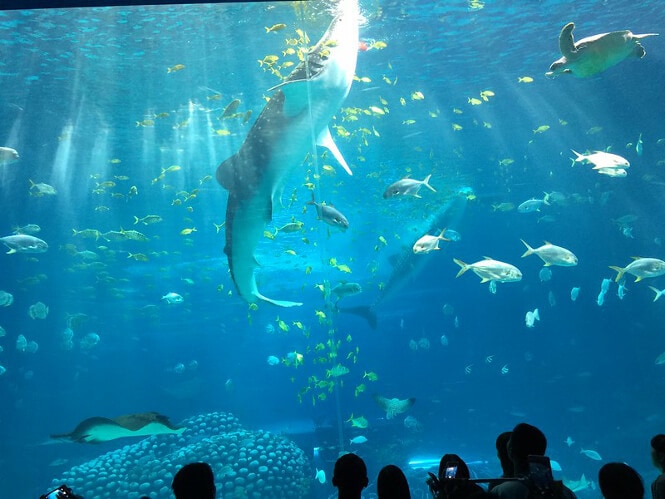 By Martin Lewison
The Chimelong Ocean Kingdom also holds the world record for the largest aquarium window according to the Guinness World Records.
Said window measures 389.33 square meters which equals 4,190 ft2 102 in2 and is on their whale shark tank.
The Chimelong broke another world record in 2018 and holds it ever since – it is the most visited water park in the world with 2,740,000 annual visitors.
Talking about going big.