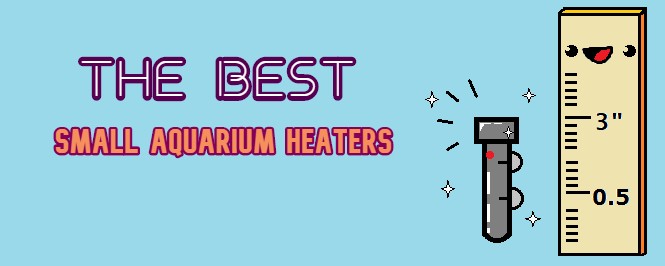 If a compact aquarium is what you want, then you need to carefully consider the size of its equipment.
Which small aquarium heater would best fit and heat the water in a tiny tank?
Even the water in a miniature 3-gallon tank would require heating, especially if you own tropical species such as the Betta fish.
Regardless of whether your tank holds 10 gallons or 5 gallons of water, it's important that it maintains a stable temperature.
With that in mind, I will walk you through the smallest fish tank heaters.
The 6 Best Tiny Aquarium Heaters
| Heater Brand: | For Aquariums: | Longest Dimension: |
| --- | --- | --- |
| 1. Hygger Submersible Heater | 2.5 to 6.5-gallon tanks | 4.5 inches |
| 2. Aqueon Preset Aquarium Heater | best for small 3, 5 and 10-gallon tanks | 5.75 inches |
| 3. Cobalt Aquatics Adjustable Heater | 2, 2.5, 3, 5 and 10-gallon aquariums | 6.5 inches |
| 4. FREESEA Mini Aquarium Heater with Temperature Display | best for 3 to 10-gallon tanks | 3.7 inches |
| 5. Aqueon Mini Heater | best for small tanks that hold 1, 2, 2.5-gallons of water | 3.1 inches, smallest heater |
| 6. TETRA | best for 2 to 10-gallon tanks, but ideally a 5-gallon one | 5.25 inches |
In my reviews, I made sure to only list heaters that remain under 6.5 inches in length and are suitable for small tanks.
I also made sure to stick to the safe rule of having at least 5 Watts of heating power per gallon of water.
But before we proceed, it's worth noting that the idea of putting a heater in fish tanks smaller than a 3-gallon one is impractical.
Space is already confined enough, and very few fish can be kept in such a small tank, despite what pet stores advertise for Betta fish.
In any case, if you want to have shrimp in a heated small tank that holds 2 gallons of water or less you could get the Aqueon Mini 5W. With dimensions of 1.13 x 0.88 x 3.12 inches the Aqueon Mini 5W is the smallest aquarium heater that is somewhat reliable for tanks of this size.
Here are the best small aquarium heaters that are perfect for nano tanks: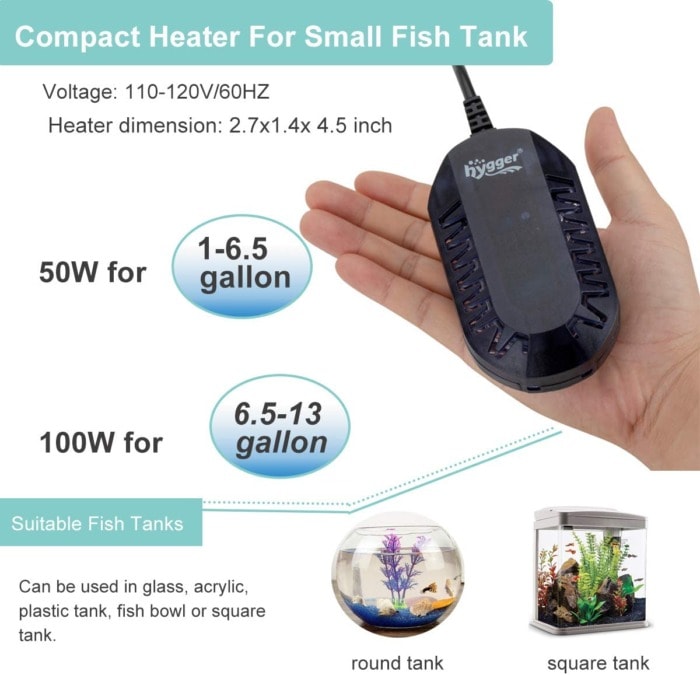 Click to see the current price + MORE photos on Amazon.
The Hygger Submersible Aquarium Heater is a compact, oval-shaped heater that can go in tanks between 2.5 gallons and 6.5 gallons.
The heater itself is slightly larger than it looks in photos and its longest dimension is 4.5 inches.
The manufacturers recommend using this heater in tanks of 1 to 6.5 gallons, but I think it would look somewhat big in tanks that are below 2.5 gallons.
I also think that having 50W, this heater would be strong enough to heat a 10-gallon tank by itself, but I haven't personally tried that.
Also, 3-gallon tanks are the bare minimum for a Betta fish, so keep that in mind if you're getting the Hygger heater for your new Betta tank.
Anyway, the Hygger Submersible heater does its job well and keeps the water in my small, 5-gallon tank warm.
It heats up quickly, but not too quickly to cause stress to my fish.
Another thing I like about Hygger's heater is that it has its own protection to stop working when it's not fully submerged in the water.
This kind of safety protection is a rarity at this price bracket, so kudos to the brand for that.
Anyhow, I am pleased with the overall design of this aquarium heater:
The protective plastic cage gives it a cool look;
The temperature controller is outside of the tank, on the cord, which is pretty convenient;
The suction cups seem reliable and haven't moved since I set them.
The only con I would like to mention is that the internal thermometer of the heater may sometimes be off by more than 1 degree F.
Author's note: I recommend that you always use a separate, dedicated thermometer in your aquarium. It does not matter if your heater measures the water's temperature on its own or not. This is the kind of best practice that you should not overlook.
Anyway, Hygger's Submersible Aquarium Heater is a great addition to small tanks in the volume range of 2.5 to 6.5 gallons. I would not hesitate to get one if I needed something compact and affordable.
ADVANTAGES:
4.5 inches in length
Very affordable
When the preset temperature is reached it will stop heating and stand by
Automatic shut off when the heater is below the water level
Will also automatically shut off if the temperature is above 95 (according to its own internal thermometer)
DISADVANTAGES:
No warranty
Sometimes the LED display may be off by more than 1 degree (but you should use a separate thermometer with any heater anyway – here is a good option)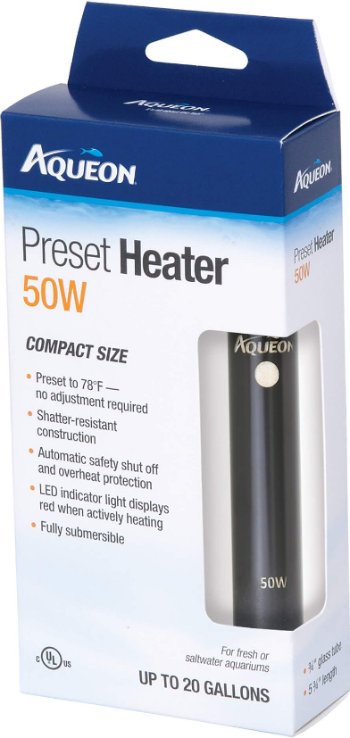 Click to see the current price + MORE photos on Amazon.
The Aqueon Preset Aquarium Heater was one of the first heaters I stumbled across when I was looking for something to heat the 5-gallon tank of my Betta fish.
The 50-Watt version of this heater is suitable for small tanks such as the 3-gallon, 5-gallon, and 10-gallon ones.
The Aqueon Preset Aquarium Heater comes with a preset thermostat to a temperature of 78 °F.
The manufacturers claim the expected variation in the set temperature is only around 1 degree. However, that depends on the size of the tank and the temperature in the room.
I'd recommend that you buy a small aquarium thermometer to check on the water temperature, in case it differs from the default heater settings of the Aqueon.
Anyway, this preset aquarium heater is relatively small in size with the 50-Watt one being just 5.75 inches in length (14.6 cm).
A standard 5-gallon fish tank has a height dimension of 10 inches (25.4 cm).
This means that if you happen to have a black background in your small aquarium, the Aqueon Aquarium Heater will fit in perfectly and will be almost invisible.
Its unobtrusive look won't really bother your aquarium pets or your eyes.
Anyhow, another good thing about this small heater is its budget-friendly price.
After all, it's a preset device that doesn't have any customization extras.
This makes the Aqueon Preset Aquarium Heater a "set it and forget it" solution.
What's important to remember about this compact water heater is that it should only operate when fully submerged.
You could put it any way you want as long as this condition is met.
Whether you decide to place the heater horizontally or vertically is up to your personal preferences and the way you want your nano tank to look.
Another benefit of Aqueon's small heater is that it comes with a 12-month warranty.
This is good because it means the manufacturers are confident in its build, despite being a rather inexpensive piece of technology.
Anyway, having in mind that it's a preset heater, in some cases when the room temperature is too low, the red indicator light of the Aqueon might not turn off.
This usually means that either the fish tank is too big for the small heater you got, or the device has some manufacturing issue.
When I had this problem, it turned out I had just ordered a weaker heater for my setup, as initially, I tried the 50-Watt version on a 30-gallon tank.
The 50-Watt Aqueon Preset Heater is best suited for 3-gallon, 5-gallon, and even 10-gallon tanks.
ADVANTAGES:
1 Year Warranty
Just 5.4 inches in length for the 50-Watt version
Set it and forget it
Cheap
Automatic shut off when the preset temperature is reached
Very good price for what you get in terms of quality
Shatterproof material
You can place it either horizontally or vertically in your small tank
DISADVANTAGES:
Non-adjustable (still, the preset water temperature is 78 degrees Fahrenheit, which works in most tropical freshwater aquariums)
No indication what is the current temperature in the tank (you can get a small aquarium thermometer at a very decent price here)

Click to compare pricing + see MORE photos of this product at:
The small water heater by Cobalt Aquatics is a bit more pricey compared to some other heaters for nano tanks.
However, there's a solid reason for its price.
First of all, this aquarium heater has an innovative look.
Second, the material it's made of is a shatterproof thermoplastic, and the heater's flat design makes it fit in every fish tank with no problem.
The 25-Watt Cobalt Aquatics Neo-Therm Heater is suitable for 2.5-gallon tanks, and 3-gallon tanks whereas the 50-Watt version will best heat the water in a 5-gallon and a 10-gallon aquarium.
A quick note though: Most 3-gallon fish tanks have a height of 9+ inches, but that's vertical space without including a substrate.
Make sure that all of the 6.5 inches of the Neo-Therm Aquarium Heater are submerged in the water when using it in a 3-gallon tank, as it seems that this heater can't be positioned horizontally.
A major advantage of the Cobalt Aquatics tiny heater is that it has a controllable thermostat.
An adjustable aquarium heater that's also small enough to fit a nano tank is a rare find.
The built-in thermostat of this tiny heater will detect the aquarium's temperature and will act in response so that the desired water temperature is maintained.
Unlike my previous pick, this aquarium heater has its own adjustable temperature dial, which gives you flexibility when choosing the fish and invertebrates for your small tank.
Anyway, the best thing about this compact water heater is that it comes with a 3 years Warranty.
That's quite the impressive warranty for any aquarium heater (overall).
Working with Cobalt's heater is very easy, as you can see the set temperature and the actual water temperature simultaneously.
When you want to make sure the desired warmth is achieved, just look at the green light indicator that's situated on the heater's temperature dial.
If it doesn't blink, it means that the temperature is already reached.
Speaking of operating this aquarium heater, there may be a slight inconvenience when doing so.
When you want to adjust the water temperature in the aquarium, you need to press and hold the dial and then wait a couple of seconds until the green light on the indicator goes all the way around the disk.
Also, another thing that I have not personally experienced, but found that some people report is that the suction cups may not always make it for more than a couple of months.
I managed to adjust the suction cups of my small Cobalt Aquatics Aquarium Heater from the first time and it remained stable from then on.
Anyhow, compared to everything else this small fish tank heater does for your aquarium, I'd say that those are minor concerns.
In my opinion, the overall performance of this compact aquarium heater is really good and if you end up choosing it, you'll likely be more than satisfied.
ADVANTAGES:
3 Years of Limited Warranty (Yes!)
Adjustable temperature dial
Reliable thermostat
Accurate temperature readings with a very small deviation
It has an automatic protection from overheating
Shatterproof thermoplastics
Slick design
DISADVANTAGES:
More expensive compared to the rest of the smaller aquarium heaters on the market
Some reports say that, rarely, the aquarium heaters of this particular type stop working due to a defect, but considering the 3 years warranty, you will not wait long until you get a replacement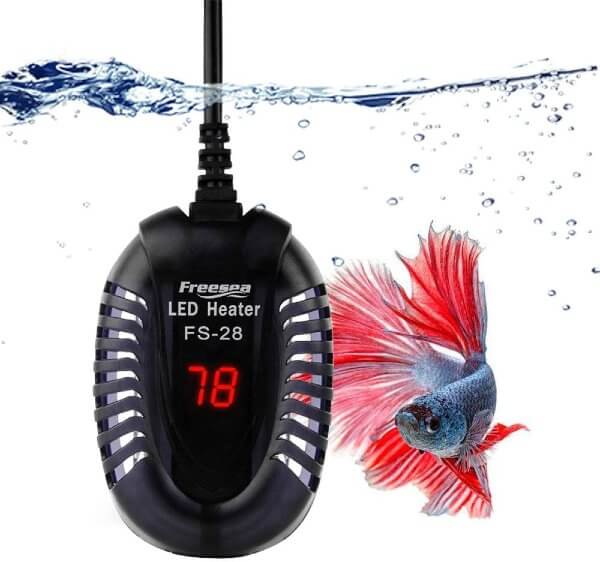 Click to see the current price + MORE photos on Amazon.
Although I used it only a few months for my 10-gallon tank I absolutely loved this nano water heater.
The first thing you will notice when it comes to the FreeSea Mini aquarium heater is its shape.
Same as with Hygger's aquarium heater, this one is actually pretty small and… round.
Yes, that's an interesting shape and I'm actually surprised how stylish it looks.
The longest dimension of this small heater is just about 3.7 inches, which makes it a perfect fit for even the smallest of nano tanks.
It comes with a 1-year warranty and with a super convenient LED display, which constantly shows the water's temperature in the aquarium.
In fact, the red digits are big enough for you to see them from far away.
Another good feature of this tiny fish tank heater is that it turns off once the set temperature is reached.
This may not sound much, but given the price of this product, it's more or less amazing.
Just remember that Freesea's small heater is fully submersible and should never operate outside of water (as with all aquarium heaters listed here).
Anyway, it's only the temperature controller that is kept outside the water, which is really convenient, considering that you won't need to dip your hands into the tank to adjust the water's temperature.
The FREESEA tiny aquarium heater has its disadvantages too, though they are nothing major.
For example, I have noticed that when the water evaporates and the heater isn't covered by the surface level, the device doesn't stop heating which may cause potential electrical issues.
This is where the Hygger heater beats FREESEA's. The Hygger one stops by itself if it finds itself out of water.
For this reason, you will need to keep an eye not only on the LED display but on the water level as well.
One more small inconvenience for me is the short cord.
You may need to place the tank somewhere close to a socket.
Anyway, despite its compact size, this aquarium heater may not be a good fit for really small tanks such as the 2-gallon one, as it may prove too powerful for such a volume of water.
Only use the 50 Watt version in 3-gallon, 5-gallon, and 10-gallon aquariums.
ADVANTAGES:
1 Year Warranty
Small, oval shape, suitable for even the smallest of fish tanks with just 3.7 inches of length
Accurate temperature readings on the LED temperature display
Decently priced
The thermostat is reliable and the maintained water temperature has little deviation
Adjustable
The temperature controller is out of the water, so you don't have to dip your hands in the aquarium to make adjustments
Stylish design
DISADVANTAGES:
Short cord
Doesn't turn off when it's not covered with water
Click to see MORE photos of this product at Chewy.
Aqueon's Mini Aquarium Heater has a small, compact size with a length of 3.1 inches.
These dimensions make the Aqueon Mini Heater the smallest aquarium heater that you could possibly get for your nano aquarium.
This extremely tiny aquarium heater comes with a 90-days warranty period.
This may not seem like a long enough warranty period, but given its size and power, it's understandable.
Obviously, this water heater should only be used in temporary aquariums that are otherwise too small to house any tropical fish for too long…
That being said, if you have a new Betta in a tiny aquarium that is soon to be upgraded, Aqueon's Mini Heater is the one for you.
In my experience, the 5-Watt version works best for fish tanks and fishbowls which hold between 1 and 2.5 gallons of water.
Bringing up the water temperature in a 3-gallon tank is also possible with the 5-Watt Mini Heater, but it will take time, and maintaining the temperature there may not be realistic during the night when it gets colder in the room.
Anyway, using this super small heater is as simple as it gets.
It's a preset one, which means that you just turn it on and leave it.
Just get a thermometer to see if the heater manages to bring up the temperature in your small tank.
For the sake of transparency: I personally haven't used this heater, but one of my friends who was cultivating brine shrimp as a live food source for his fish has.
What he was not happy with when using the Mini aquarium heater was the fact that there wasn't an indicator light to show him whether the heater is on or off.
So if you end up getting this heater in your small tank you have to occasionally check the water's temperature to make sure it's within the desired range.
The last thing you should know about this super-tiny aquarium heater is that it's fully submersible, and you can place it both horizontally and vertically.
The 5-Watt version of the Aqueon Mini Aquarium Heater is an overall great solution for heating the water in a 1 to 2.5-gallon aquarium.
ADVANTAGES:
The smallest heater you can get for your aquarium with just 3.1 inches of length
3-month Warranty
Works in very small tanks (1, 1.5, 2, 2.5-gallon aquariums)
Budget-friendly
Shatterproof material
Ease of use
DISADVANTAGES:
No light showing if the heater is on or off
Not a long-term solution and should likely be replaced right after the warranty ends (still a great option if you need a cheap solution temporarily)

Click to see the current price + MORE photos on Amazon.
This TETRA submersible heater is a tiny mechanical device with its longest dimension sitting at 5.25 inches.
It's pre-set to 78°F but you can expect it to be off with +/- 2°F which is roughly 1°C.
It's not super technologically advanced, it's just a small heater that does the job.
I'm including it in this list because it has done well by me and it perfectly fits my criteria for small tank heaters.
You'd want to use the TETRA heater in 5-gallon tank with something like a Betta in it.
The thing seems durable to me and as far as I have it tested it will last for at least a year.
However, while doing research for this heater I came across reports of people claiming that it came malfunctioning out of the box.
This is usually not an issue if you're ordering from somewhere like Amazon, because the order replacement process there is pretty seamless.
To make sure your TETRA heater is not a faulty one out of the box turn it on and leave it in a 5-gallon bucket of water overnight.
The next morning you'd want to check if the temperature was maintained during the night and that everything went well.
If the TETRA heater passes the what I call "the overnight test" then you're good to go.
Keep in mind that with this heater you get what you pay for.
There's no adjustable knob, electronic displays and whatnot.
One thing I like about the design of TETRA's submersible heater is the suction cup.
It's basically immovable once you set it in place.
ADVANTAGES:
Pre-set
Compact; 5.25 inches in length
Affordable price point
Strong suction cup
Good Wattage (50 Watts is great for a 5-gallon tank even in a cold room)
DISADVANTAGES:
Simplistic, no bells and whistles (this could actually be a positive for some users)
Needs to be tested outside of the aquarium before use
Has a chance for a +\- 2°F (1°C) deviation
A-to-Z Guide on choosing a Heater for a small fish tank
Although buying an aquarium heater for your pet's home may seem daunting, it does not have to be the case.
There are some factors you should take into account before making your final choice.
That being said, below I will list some things that are worth considering before buying a water heater for small fish tanks:
With or without a Thermostat?
A thing to consider before getting an aquarium heater is whether you want it with or without a thermostat.
Actually, if you check some products online, you will notice that there aren't many manufacturers offering small aquarium heaters without a built-in thermostat.
The reason behind that is the general agreement when it comes to the overall safety of the aquarium.
The thermostat communicates with the heater that it's time to switch off when the water temperature in the tank reaches the desired level.
A thermostat is essentially that – a device that performs actions based on the temperature in a medium (in this case the medium is water).
It's very important that the heater in your small fish tank has a thermostat because it prevents the creatures inside from getting boiled alive.
The Heater should be durable, but be realistic about your expectations
We all want to buy a fish tank heater and to stick with it until the end of our small tank journey.
Unfortunately, that's somewhat of a utopia, as nothing really lasts forever.
Let's be honest, electronics fail, break, and malfunction.
However, this does not mean that there are no durable aquarium heaters.
The best indicator of durability in a heater is its provided period of warranty.
The warranty period is a reflection of a manufacturers' confidence in their product.
The longer the warranty – the more likely it is that your small heater will last you longer.
On the other hand, expecting an aquarium heater to last you for multiple years is naive at best.
If your aquarium heater's at the end of its warranty period then it would likely be a wise move to replace it with a new one.
Get one heater extra, just in case
It's always a good idea to have a small backup plan in case your main aquarium heater stops working for some reason.
You can get another one, just to be on the safe side.
In the best-case scenario, you will need it in a few years, so why not take two at the same time and save yourself some future hassle.
By the way, speaking of quantity, there's another reason why you'd want to get two aquarium heaters.
I discovered a small trick during the years, which seems to be working for other people too.
If you are afraid that someday you might find your beloved fish frozen or the victims of a parasitic outbreak, buy two heaters of the same type.
Be sure that they both have the recommended Watts for your aquarium's size.
Place them both in the tank and tune them both to the same water temperature.
This way if one heater malfunctions the other one will detect the drop in the water's temperature and make up for the loss.
By doing so you'll make your aquarium TWICE as resistant to temperature fluctuations that happen during the night or on rainy summer days.
Fluctuations in water temperature are usually the reason behind fish disease outbreaks.
This usually works for larger tanks and may be impractical in small tanks that hold less than 3 gallons of water.
Temperature controllers are nice but you may not need one
If you end up choosing a preset heater, you already know you won't be able to regulate the temperature in the fish tank.
Those heaters sure have their advantages, the main ones being saving you time for adjusting the degrees and also having an extremely affordable price.
But they don't give you much flexibility on what kind of fish or invertebrate species you could keep in your small tank.
If it's a single-species nano tank such as a 5-gallon Betta fish aquarium then going with a preset heater makes sense.
However, if you plan on experimenting with different species of nano fish, you should likely get an aquarium heater with a temperature controller.
Get the stronger heater if the average room temperature of your home is low
The manufacturer's recommendations for an aquarium heater are relative.
If where you live gets really cold in the winter, you should likely purchase a heater that's recommended for a larger tank than yours.
For example, I'd usually recommend a 25-Watt heater for 2.5-gallon and 3-gallon tanks.
If it's relatively warm where you live and there's no cold winter, you could get the same heater even for a 5-gallon aquarium.
However, to be on the safe side, you should likely get no less than 50 Watts of heating power for a 5-gallon tank.
This does not mean that the heater will be too strong for your small, 5-gallon tank.
The thermostat will order the device to turn off when its job is done.
More Watt power only means that when the cold weather hits, the heating unit will be more than capable of sustaining a reasonable water temperature for your small tropical fish.
You could literally stick a 200-Watt heater in a 5-gallon aquarium and you'll be fine.
It's important, however, not to overestimate the heating capability of the heater, because when a cold night arrives, the device won't be able to warm up the whole gallon capacity of the tank and your fish may get sick.
So to be on the safe side, I prefer to have a heater with at least 50 Watts of power in 5-gallon or larger tanks.
The material the heater's made of matters but it's not key to success
You may remember the old days when all we got were the glass tube heaters.
Nowadays the materials, shapes, and sizes aquarium heaters come in are much more abundant.
Aside from the glass aquarium heaters, there are also titanium and stainless steel ones.
But should you be concerned about the material your fish tank's heater is made of?
Frankly, I've never been worried about that.
As long as my small heater would do its job, I would be fine.
Of course, there are some differences between the 3 types.
For example, the glass heaters always come in the shape of a tube and this may be inconvenient for some people and the way they imagined their aquarium's interior.
Also, regardless of the fact that the majority of glass heaters are made of quartz or other non-breakable glass, my experience shows that the glass may at least crack.
However, when it comes to the price, glass aquarium heaters usually cost less than the other two types.
Still, the budget-friendly glass heaters may come with not-so-precise thermostats and may have a shorter life span.
The stainless steel and titanium heaters have longer life spans, different shapes, and also cost a little bit more.
That being said, their water temperature readings are more accurate, and often they come with a temperature controller, which gives you more flexibility for regulating the climate in your small fish tank.
Do you really need an aquarium heater for such a confined space?
If you are going to keep tropical species, such as the Betta fish in your small tank, then it's desirable to have a water heater in there.
Most tropical fish require a water temperature range of between 75 and 82 °F.
Such water temperatures are usually impossible to reach and maintain in an aquarium if you live in a place with a non-tropical climate.
But the main reason you'd want to have a heater in your small tank is the following:
An aquarium heater with a thermostat maintains a stable water temperature 24/7.
The temperature fluctuations of the aquarium's water between day and night may result in weakened tropical fish.
This can result in different types of deadly illnesses such as parasitic Ich, which are not easy to cure.
Preventing lethal disease outbreaks in both freshwater and saltwater aquariums is the best reason to get an extra heater for your tank.
Prevent even the smallest possibility of failure when starting an aquarium
Sure, the heater you end up getting for your small aquarium will play a key role in the well-being of your tropical fish.
But did you take the rest of the steps for establishing a healthy and suitable environment for your pets?
Most pet casualties and failures of new fish tanks are not related to their aquarium heaters but rather the fact that there was no established Nitrogen Cycle going on in the system.
"Cycling" an aquarium means that you've waited enough time for special sets of beneficial bacteria to settle in the water and kick-start the Nitrogen Cycle.
A functional Nitrogen Cycle allows for your fish to remain alive, and not become intoxicated by their own waste in the water, because these bacteria decompose it.
This is especially important in small volumes of water such as the ones in small aquariums that hold less than 5 gallons.
This process takes some time, and it's not the most entertaining thing to do since you can't have fish in the tank before it is cycled, or they may perish.
Kick-starting the Nitrogen cycle in an aquarium takes between 8 and 10 weeks.
Luckily, you can cut the cycling time to just 2 weeks by adding some bottled bacteria.
The beneficial bacteria supplements will introduce the proper set of bacteria in the tank and the tank will start cycling almost immediately.
And that's about it. What water heating unit did you end up choosing?
Drop me a comment below if you have something to share or want to ask me a question.
FAQs
What is the best one for a small fish tank?
The best heater for a small tank should be one that has a compact while still packing enough strength to keep the water warm during winter.
What size should mine be for my "X" gallon tank?
Generally speaking, you'd want a heater that packs 10 Watts of power per 1 gallon of aquarium water. Some may consider this an overestimation, but it is intended to protect your pet fish during the colder months of the winter. This ratio will give you peace of mind and you won't have to worry about your fish getting sick or freezing when the temperatures drop drastically during a cold night.
Is a 25-Watt one enough for a 5-gallon fish tank?
A 25-Watt heater will be enough for a 5-gallon fish tank only in climates with very mild winter. It is better to get a 50-Watt heater for a 5-gallon aquarium with tropical pet fish in it.
What is the best one for a Beta fish?
Betta fish are tropical fish and as such need constant tropical water temperatures in their tank. The best filter for that kind of fish would be one that has at least 10 Watts of power per gallon. So if you keep your Betta in a 5-gallon tank then the best heater for it should be a 50-Watt one.