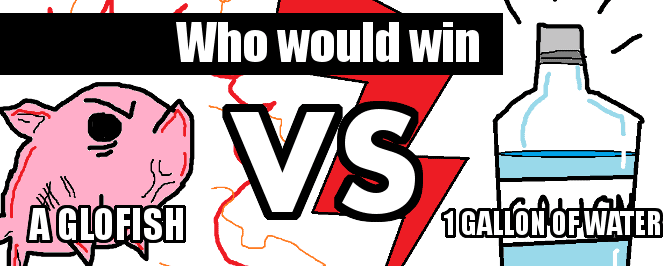 First of all, let me point out that the "inch per gallon" rule does not apply to Glofish. Moreover, that rule is not and will never be correct for any species of fish. Imagine putting a 10-inch fish in a 20-inch (10 gallons) tank. With good filtration, It will probably survive, true, but will it be happy? Probably not. One of my personal rules on the matter is that this is not a hobby, these are our pets. We need to treat them with love and care. They deserve to be happy. But I digress. Let's dive right in.
Exactly how many Glofish will be alright in a gallon of water?
There are a couple of things you need to know about Glofish before we proceed:
Glofish are schooling fish – they need the comfort of living in a group and swimming in a group.
Glofish are not one species of fish – Glofish is an umbrella term for more than one species of genetically modified fish that end up glowy. Most popular ones are the Black Skirt Tetra and the Zebra Danio.
Before we discuss a suitable tank size for any Glofish I first must point out the size and characteristics of each separate species that is included under the umbrella term "Glofish":
Glofish Danios, which are essentially Zebra Danios, grow up to 2.2 inches of body length (5.6 cm).

This species needs to stay in groups because they form complicated social hierarchies among them. They are also fast swimmers and need lots of horizontal space for swimming.

by TitanicsAnInsideJob

Glofish Tetras, which is a variation of Black Skirt Tetras, reach just about 3 inches as adults (7.62 cm).

This species also needs to stay in groups of 6 or more in order to lead a happy life.

by TheeBlackSheep

Glofish Tiger Barbs, are just that – Tiger Barbs.

Tiger barbs grow to be around 3 inches in body length (7.62 cm). Tiger barbs are known menaces in the fishkeeping hobby because they tend to become very aggressive if not kept in groups.

When they have their own group the aggression is spread out among the members of the group and there is a lesser risk of injury for the fish.

by TheeBlackSheep

Glofish Corydoras are actually Bronze Corydoras which is a type of small catfish that grow up to be 2.5 inches or 6.35 cm.

Bronze cory catfish are social fish and need to be kept in groups of at least 5 specimens.

by Liddojunior

Glofish Pristella Tetras are ordinary Pristella tetras made to glow.

These fish reach up to 1.9 inches in length when fully grown (~4.8 cm). Pristella tetras need to be kept in groups of their own to live comfortably.

by rmarkham (I could not find a good photo of a glofish Pristella tetra so an ordinary will have to do)

Glofish Betta fish are your regular Betta Splendens made glowy.

The size of an adult Betta fish is roughly 3 inches (7.62 cm), but some specimens never grow past 2.5 inches (6.35 cm). Bettas are mostly solitary and many of them have anger issues…

These fish are best kept singly if you're a beginner to fish keeping.

by Amaalecule

Glofish Sharks are what is known as Rainbow shark in the hobby.

They are not real sharks but do closely resemble one. Rainbow sharks grow to be the largest of all other types of Glofish, closing in on 6 inches of full body length (15.24 cm).

Rainbow sharks are aggressive and don't like other fish entering their territory, which is typically the bottom of the tank.

by FloatingNine
With this out of the way, I can now discuss appropriate tank sizes for the different types of Glofish.
Through trial and error, the aquarist community has reached an agreement on what would be a comfortable home for each of these fish.
Most experts agree on the following:
Glofish Danios should be put in nothing short of a 20-gallon "Long" tank. Keep your Danios in groups of 7 to 8 so that they can form their hierarchy.
Glofish Black Skirt Tetras should be kept in a 15-gallon tank as the bare minimum. Get 6 or 7 specimens and let these social fish form a group.
Glofish Tiger Barbs need at least 20 gallons to thrive but it's recommended you get them a 30-gallon tank for a comfortable life. Keep these fish in groups of 6 to 7 specimens or they will suffer a shortened lifespan, same as every other social fish.
Glofish Corydoras need a minimum tank size of 10 gallons. However, most experts agree that they truly thrive in the 20-gallon "Long" tank. Keep them in groups of 5 but 6 or 7 is better.
Glofish Pristella Tetras need to be put in a 10-gallon tank as the minimum. To make their group of at least 6 truly comfortable, however, you'd want to keep them in a 15-gallon aquarium.
Glofish Betta fish are ideally kept in a 5-gallon tank as the minimum. If you go with the 5-gallon tank, keep Bettas alone, at least at first. When you get the hang of looking after them you can maybe add some tank mates to their tank.
A single adult Glofish Rainbow Shark needs a 55-gallon tank to thrive. These fish will occupate the bottom of their tank and won't be happy with other bottom-dwellers. Keep your 55-gallon tank's bottom reserved for a single specimen.
Taking the specific needs of each species of Glofish we can come to the conclusion of how many gallons each individual fish needs. Here they are:
Glofish Danios need 3.3 gallons per individual. Preferably living in a tank with enough horizontal length.
Glofish Black Skirt Tetras need 2.5 gallons per individual.
Glofish Tiger Barbs need 3.3 gallons per individual at the minimum. Ideally, you'd give them 5 gallons per specimen.
Glofish Corydoras need 2 gallons per individual.
Glofish Pristella Tetras need at least 1.7 gallons per individual.
Glofish Betta fish need 5 gallons per individual. Keep in mind that if you put 2 male Bettas in a 10-gallon tank it will likely end in disaster. However, putting 2 males in a 20-gallon tank has a decent chance of working if the tank is decently planted.
Glofish Rainbow Sharks need the whole bottom footprint of a 55-gallon tank per individual.
Get the long tank and mind decoration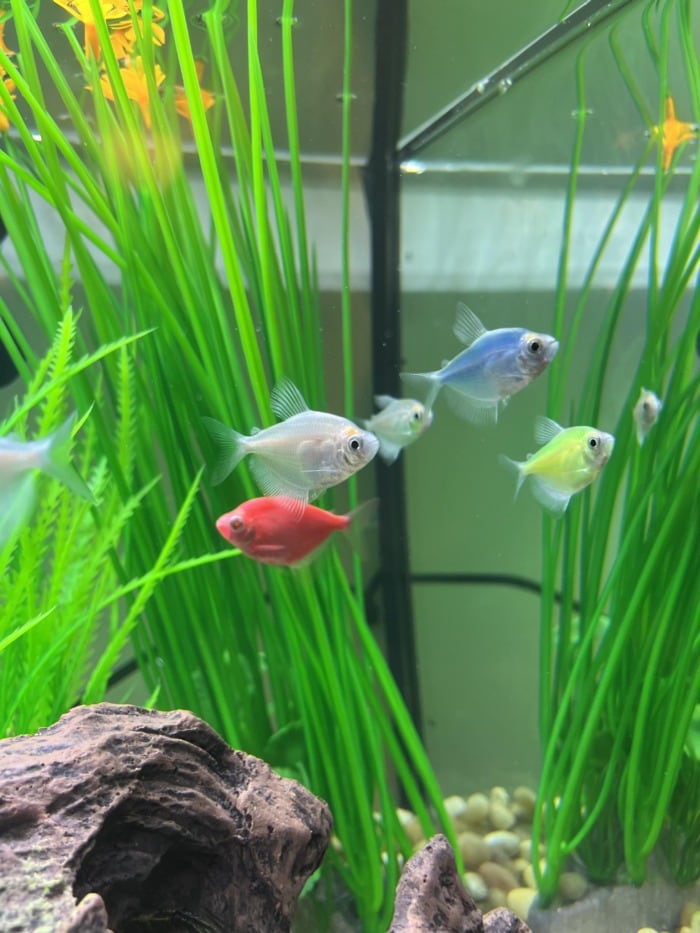 by lindsayarmstrong
Most Glofish species are highly active and like to swim around a lot. And since they can't be kept singly, you can't put a single specimen in a 3-gallon aquarium.
In most cases, this leaves a 10-gallon tank (and everything below that) out of question, with the exception of Glofish Bettas and Corydoras.
Keep in mind that decorations take up space and reduce the overall water, available to fish. Sticking a considerably large piece of driftwood in your tank can be beautiful but it will reduce the swimming space even further.
Click the link if you want to learn where to find the perfect piece for your aquarium, by the way.
You'd also want to take into consideration that the glowing Danios like to speed around in your aquarium and need more horizontal space.
If they are your Glofish of choice you'd want to have a long fish tank.
Both Balck Skirt and Pristella Tetras are quite active (and attractive) swimmers as well.
If you plan to get the bare minimum and don't own other fish a 10-gallon tank won't be enough.
From my personal experience, it is always best to scale up things by a level.
I always liked to keep my fish tanks stocked at populations of 70 to 80% of the maximum the tank can hold.
This way my fish would reach their full potential and not feel confined in any way.
If you do, by any chance, plan to add tank mates to your Glofish aquarium setup you will have to get a bigger tank eventually.
More fish ideas: Top Fish to Stock a Small Tank
Why do Glofish need to be in groups?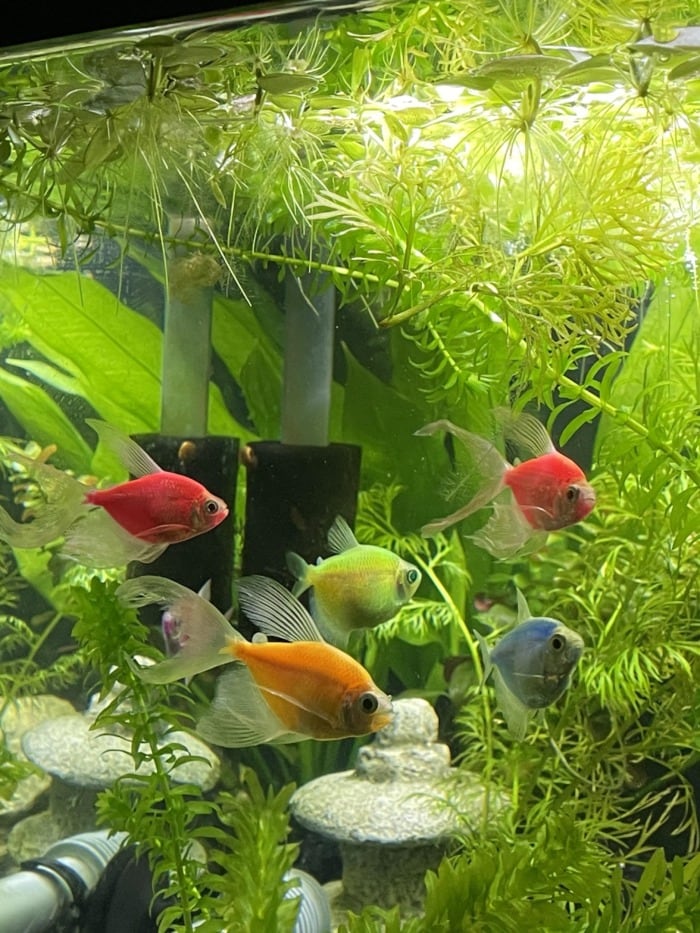 by Sunshine-91000
Most Tetras and all Danios should live among their brothers.
The Zebra Dario and the Skirt Black Tetra are both schooling fish species. This means that they will coordinate their swimming and do it in the same direction.
They do this as a survival mechanism and have therefore adapted to a social environment. Living among others of their kind is key to keeping any type of shcooling fish.
Glo tetras and Glo tiger barbs are known to become aggressive when not in schools.
If you keep too few of the same schooling fish species in your new tank they will feel lonely and may even die earlier.
These are social species.
I'd encourage anyone who's excited about having an aquarium to have at least a couple of those.
They make the aquarium feel alive and, dare I say, are more entertaining to observe than most TV dramas.
A couple of friendly reminders about keeping Glofish for our fellow beginners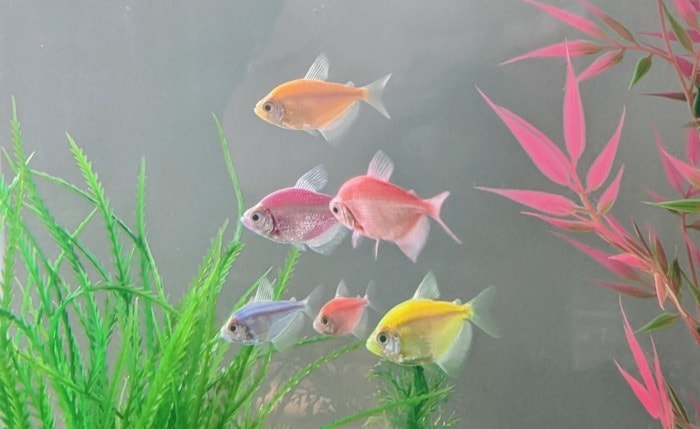 by GraniteCalcio
Here are a few tips for proper Glofish care to consider before starting a Glo-tank:
If you're still researching what equipment a new fish tank needs, then visit this article.